Algerian diplomat 'executed by Mali rebels'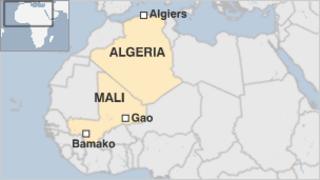 An Islamist militant group in Mali says it has killed one of the Algerian diplomats it seized five months ago.
The Movement for Oneness and Jihad in West Africa (Mujao) said it had "executed" Tahar Touati after Algeria failed to respond to its ultimatum to free three of its members.
The Algerian authorities say they are trying to verify the claim.
Seven diplomats were abducted after the Algerian consulate in Gao, northern Mali, was raided by militants in April.
Islamist groups and Tuareg rebels took control of northern Mali after an army coup.
The army seized power in Mali in March, accusing the elected government of not doing enough to halt the advance of the insurgents.
But the rebels took advantage of the army's disarray to seize the whole of the north - an area the size of France.
Some groups are believed to have links with al-Qaeda's north African wing - al-Qaeda in the Islamic Maghreb.