Ruling MPLA leading Angola elections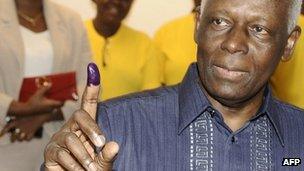 Angola's ruling MPLA party has taken a commanding lead in national elections, with almost 75% of the vote, partial results suggest.
With more than 70% of votes counted from Friday's polls, the main opposition Unita party garnered about 18%, the electoral commission said.
If confirmed, the results mean another term for President Jose Eduardo dos Santos, 70, who has ruled since 1979.
The vote was the second since the civil war ended a decade ago.
Analysts had predicted an easy victory for Mr dos Santos' Popular Movement for the Liberation of Angola (MPLA), which won more than 80% in the last vote.
MPLA officials said the results showed that the party was enjoying widespread support.
"These results show that the MPLA continues to be the party of the people and that we obtained a majority that will allow us to keep on growing the country in stability," MPLA spokesman Rui Falcao told Reuters.
The elections were the first held under a newly adopted constitution, under which the leader of the winning party in the 220-member parliament becomes president.
The MPLA has been in power since Angola's independence from Portugal in 1975.
The new Casa party - which split from Unita in March - was trailing distant third with 4.7% of the vote, the electoral commission said.
Unita had called for the election to be delayed, expressing concern about a lack of transparency, especially the failure to publish a full electoral roll.
The provisional turnout was put at 57%, but in the capital Luanda and several other provinces it was much lower - with only one in four registered voters taking part.
Some voters were unable to cast their ballot as they did not appear on lists, despite being registered, she adds, while others are believed to have stayed away due to expectations the vote would be rigged.
Angola - Africa's second leading oil producer - has witnessed an economic boom since the end of the 27-year civil war in 2002, but the opposition says the wealth has only benefited a small elite.
Related Internet Links
The BBC is not responsible for the content of external sites.