Nigeria SSS spy details leaked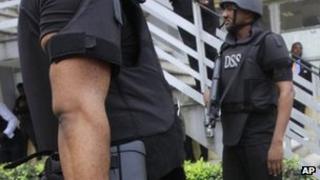 Former Nigerian secret agents have told the BBC they are concerned for their safety after their personal records were published online.
The details of about 60 operatives remained on the comments section of a local news site for days before being deleted, reports the AP news agency.
One analyst told the BBC it was a national embarrassment and danger.
Militant Islamist group Boko Haram has not commented on reports it was behind the leak.
BBC reporters have seen a cached version of the site and used the details to contact former agents of the State Security Service (SSS).
"The publication has put me in danger," one former agent said.
The agents contacted by the BBC said they had not been officially told about the leak.
Infiltrated
The information published includes names, ID numbers, bank details and addresses.
Next to the personal records was the comment: "We still have more to kill in the SSS."
A previous posting reportedly carried a threat from Boko Haram, which has killed hundreds of people in a series of attacks over the past three years.
AP says those affected by the leak include SSS head Ekpeyong Ita.
Agency spokeswoman Marilyn Ogar said she had not seen the site and so could not comment on the report.
Analyst Abubakar Othman told the BBC the leak was an "embarrassment" for the SSS and had put the country in danger.
"If the SSS cannot protect its own security, people will think twice about giving them information about the groups fighting the government," he said.
President Goodluck Jonathan has previously said that Boko Haram had infiltrated all levels of the government.
The group, whose name means "Western education is forbidden", wants to establish Sharia across the country, which is divided between a mainly Muslim north and a largely Christian and animist south.
It has staged attacks on government and security institutions, churches, bars and assassinated Muslim clerics who disagree with its views.