Abolish Senegal Senate to fund flood relief, says Sall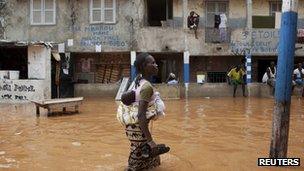 Senegal's President Macky Sall has called for the country's Senate to be abolished, with the money saved going to pay for flood relief.
He had cut short a visit to South Africa to deal with the severe floods, which have claimed at least 13 lives.
Speaking at Dakar's airport, he said he would introduce an emergency bill to abolish the upper house.
The money reserved for the Senate, more than 12m euros (£9.5m; $15m), would go towards preventing further flooding.
"Closing the Senate comes as a result of the urgent and crucial need to find substantial funds to deal with all the issues generated by the flooding," the president's spokesman, El Hadj Kasse, explained.
Although the low-lying suburbs of the capital, Dakar, flood during most rainy seasons, this year has seen exceptionally high rainfall across West Africa. It is estimated that thousands of people have been left homeless.
Residents were reported to have taken to the streets of the capital to denounce the government for failing to act faster and were dispersed with tear gas.
The BBC's Thomas Fessy in Dakar says the announcement comes only two weeks ahead of the elections for the upper house.
The emergency bill will be presented to MPs of the lower house, the National Assembly, and is likely to be passed by a majority, he says.
President Sall acknowledged the importance of the Senate in a democratic system, but said "the relief of the suffering of the people is more important than the Senate, for us to stop the floods that cyclically affect our country", the Spanish news agency Efe reported.
In May, the World Bank pledged $55.6m to help Senegal improve its flood defences and storm water management, particularly in Dakar's suburbs.
Our correspondent says in a country where most people often complain that senators do too little for the state's affairs, this is likely to give President Sall a boost in popularity.
Since coming to power in March he has faced criticism for concentrating on an investigation into alleged corrupt officials in the previous government, instead of on rising food prices and ending power cuts, our reporter says.
The floods have only worsened the mood, with some accusing the government of "being on holiday" as many ministers have been on leave during the crisis.
Senegal has been typically held up as an example of a successful African democracy, with an established multi-party system and division of power.
Related Internet Links
The BBC is not responsible for the content of external sites.