African Union urges Gambia to stop prisoner executions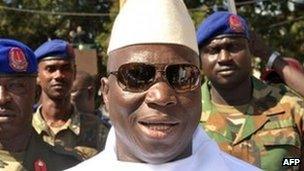 The African Union has asked The Gambia's President Yahya Jammeh to renounce plans to execute all death row prisoners next month.
Mr Jammeh made the comment during a speech he gave to celebrate the Muslim festival of Eid.
A Gambian pressure group says many of the 47 death row inmates are political prisoners or have faced unfair trials.
According to Amnesty International, no executions have been carried out in The Gambia for 27 years.
The death penalty was abolished when former President Dawda Jawara was in power but reinstated in 1995 shortly after Mr Jammeh seized power in a military coup.
'Messages of peace of love'
"By the middle of next month, all the death sentences would have been carried out to the letter; there is no way my government will allow 99% of the population to be held to ransom by criminals," President Jammeh said in an speech on Sunday, which was broadcast on national television the next day.
In response, Benin's President Thomas Boni Yayi, who is the current chair of the African Union, sent his foreign minister to The Gambia.
"After having learned of the imminent execution of a number of prisoners sentenced to death, President Yayi, who is very concerned, wished that President Yahya Jammeh not carry out such a decision," Beninois Foreign Minister Nassirou Bako Arifari told BBC Afrique.
The president's remarks have also caused much distress amongst death row inmates and their families, Civil Society Associations Gambia (Csag) and UK-based Amnesty International said in statements.
"Csag is particularly disturbed that on the day of Eid al-Fitr, when Muslims the world over seek forgiveness, extend messages of peace and love, show solidarity with one another and those in distressing conditions that President Jammeh chose once again to show his brutality and repressive nature by informing Muslim leaders that he would execute prisoners," the group said.
Amnesty International said death sentences in The Gambia were "known to be used as a tool against the political opposition".
It added: "Furthermore, international standards on fair trials, including presumption of innocence, access to lawyers and exclusion of any evidence obtained as a result of torture, are often not respected."
Mr Jammeh's human rights record has often been criticised by international organisations, with particular concerns over press freedom.
Last year, after winning a fourth term in office in widely criticised polls he told the BBC that his critics could "go to hell" because he feared "only Allah".
The tiny West African state is a popular tourist destination.
Related Internet Links
The BBC is not responsible for the content of external sites.