South Sudan's Paulino Matip dies in Kenya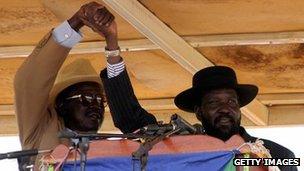 High-ranking South Sudanese military commander Paulino Matip has died in a Kenyan hospital after a long illness, the government has announced.
Information Minister Barnaba Benjamin described Mr Matip, the army's deputy commander-in-chief, as a champion of peace and reconciliation.
Mr Matip switches sides several times during the north-south civil war that killed hundreds of thousands of people.
South Sudan seceded from Sudan last year following a 2005 peace deal.
The BBC's James Copnall in Khartoum says Mr Matip - the number two person in the army after President Salva Kiir - had a reputation of being a fierce fighter and was feared by his enemies.
Mr Matip was a hated figure in South Sudan when he first broke away to fight on the side of Khartoum's army during the 1983-2005 civil war, our reporter adds.
But in 2006, following overtures by Mr Kiir, he rejoined the Sudan People's Liberation Army (SPLA), the former rebel group which now makes up South Sudan's army.
"He has made his personal contribution despite earlier differences that caused the split in the SPLA," Mr Benjamin said. "He brought all the armed groups under his command into the SPLA to reunite."
Mr Benjamin dismissed suggestions that there could be splits or defections from the army following Mr Matip's death, Reuters news agency reports.
"We don't foresee any division of any kind," he is quoted as saying.
South Sudan has been hit by inter-ethnic conflict since its independence in July 2011.
It has also accused Sudan of backing rebels on its territory and launching cross-border attacks. Sudan denies the allegation.