Mixed reaction on social media to death of Ethiopian PM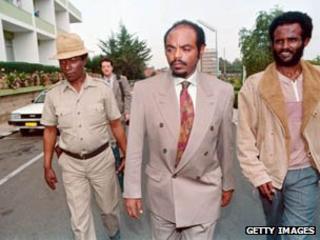 Social media users across Africa have been giving mixed reactions to the official announcement of the death of Ethiopian Prime Minister Meles Zenawi.
Some commentators consoled Ethiopians and the late PM's family, and hailed the late PM for bringing political stability.
Others were critical of Mr Meles, especially of his leadership style, democratic credentials and decision to seek treatment abroad.
Social media commentators in several African countries sent their sympathies to Ethiopia.
Reacting to the news on the Facebook page of Kenya's NTV station, "Kibet Felix Koech" said: "2012 is not a good year for African leaders, may his soul rest in peace."
Numerous African leaders have died in 2012, including President Bingu wa Mutharika of Malawi, Guinea-Bissau's Malam Bacai Sanha, and John Atta-Mills of Ghana.
On Twitter, "James Munyaneza", who describes himself as a Rwandan journalist, pays tribute to Meles: "#Rwandans join #Ethiopians in mourning their fallen leader. The PM [prime minister] has been a close friend of the people of #Rwanda. #RIPMelesZenawi".
Another Rwandan Twitter user, "Ladislas Ngendahiman", echoes her compatriot's remarks, saying: "#Rwanda has lost a true friend and hero! RIP".
'Ethnic violence'
There is also anxiety evident in many users' comments, and a sense that Mr Meles's death could lead to unrest in Ethiopia.
Twitter user "Fatou Toure", who describes herself as expatriate, says the PM's death "is terrible news even though I was not his fan. I'm just hoping the transition is peaceful."
Another Ethiopian Twitter user, "Buff Balcha", says: "I'm so scared for my country right now #Ethiopia #Meles".
"Gerald Mahinda", writing on NTV's Facebook page, expresses fears of imminent religious conflict in Ethiopia, saying "the civil war between Christians and Muslims is about to start!"
This is in reference to recent Muslim protests in the capital Addis Ababa.
On the Facebook page of South Africa's Mail & Guardian newspaper, "Brenda Cadillac Madisha" praises Mr Meles for stabilising Ethiopia, but is also fearful about the country's future, saying: "I believe that he became the glue that held Ethiopia together judging by the near stability that Ethiopia experienced over the last decade or so and the millions of dollars that it got."
The user adds: "I am afraid now that Meles is dead the ethnic violence that erupted in Ethiopia will come back and haunt Ethiopia again. RIP Zenawi."
Meanwhile US-based Twitter user "Simret Zeru, Esq.", writes: "Before you start celebrating in the streets over the death of Meles Zenawi, consider its implications. He might've been the lesser evil."
Many social media commentators have been critical of Mr Meles, and the legacy he leaves behind.
Twitter user "Mohammed Ademo", a US-based journalist, says: "#Meles had repeatedly called his predecessor Mengistu a butcher. For many Ethiopian youth my age, his legacy is no different. #Ethiopia".
"Fisseha Tegegn", who describes himself as a London-based journalist, criticises those mourning Mr Meles's death, tweeting: "You can express your feelings in whatever way you want but please, don't try to tell me that it is a sad day for Africa. No, it is not!"
Meanwhile on the Facebook wall of the South African Mail & Guardian newspaper, "Ranyabane Clive Polile" criticises the African political elite for seeking medical treatment overseas, saying: "African despots don't use public facilities they build for their own people. Condolences to the people of Ethiopia for their loss".
BBC Monitoringselects and translates news from radio, television, press, news agencies and the internet from 150 countries in more than 70 languages. It is based in Caversham, UK, and has several bureaux abroad. For more reports from BBC Monitoring, click here