Sierra Leone cholera death toll rises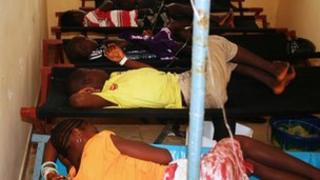 An outbreak of cholera in Sierra Leone has infected more than 10,000 people and killed at least 176 since January, authorities have said.
They have appealed for international assistance to help them contain the spread of the disease.
President Ernest Bai Koroma has declared the outbreak a national emergency.
There have been 100 deaths in the capital, Freetown, in the last month alone.
The International Federation of Red Cross and Red Crescent Societies (IFRC) said that the number of cases had spiked since mid-July, the beginning of the rainy season, with 6,000 cases reported in the past five weeks alone.
Amanda McClelland, of the IFRC, said the current outbreak had the potential to be "devastating".
Conflict link
The country's health minister said the outbreak was directly linked to Sierra Leone's past conflict, which had caused a massive migration from rural to urban areas.
"A huge population clustered in the urban area where adequate provision has not been made for water and sanitation - this is what we have been witnessing today," Zainab Hawa Bangura told the Associated Press.
Over-populated areas with poor water and sanitation were making the problem worse, she said.
In neighbouring Guinea, which has also been affected by an outbreak, at least 82 people have died from the disease since February.
The country's ministry of infectious diseases department said the situation was "alarming".
"A week ago we counted 60 dead and 2,054 cases," ministry official Sakoba Keita said on Sunday.
Cholera is an acute intestinal infection caused by eating contaminated food or water. The disease, which causes acute diarrhoea and vomiting, spreads faster when there is poor water and sanitation.
Mali and Niger have also been hard hit by outbreaks, with high levels of malnourishment due to drought making the problem worse.