African viewpoint: West Africa's sporting blues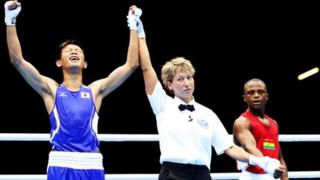 In our series of viewpoints from African journalists, Ghana's Elizabeth Ohene reflects on West Africa's poor performance at London 2012.
I gave up all hope of playing any sports with any seriousness when at the age of 14 my teenage body burst out in the most unexpected places.
The changes in my body spelt the end of any attempt at running, jumping or throwing. My biggest exertions in sports therefore come from watching.
I must confess that I spent most of the past three weeks in front of the television watching the Olympic Games.
The crowds at the various venues sometimes made me wish I were there to absorb some of the atmosphere but the television images were compelling.
The athletics bit of the Games was always going to be the most thrilling part for me but I found myself getting all tense watching the fencing.
I was grateful for the instant lessons being given by the commentators and they helped to better understand what was going on.
The truth of the matter is that you do not need to understand the rules to enjoy most games, and before very long I was cheering the curling and the kayaking with the same vigour as I would cheer the steeplechase runners.
Humming anthems
I did not have much hope in the performance of Team Ghana and they did not disappoint, thus it was easy to settle down and simply enjoy the games without any tensions about Ghanaian competitors.
I expected Kenya to do better but then I do not think that for sheer elegance and poetry in motion anything can challenge the majesty of David Rudisha running the 800m.
That race got my prize for breathtaking beauty.
As for the gymnasts I do not quite understand how the human body can be contorted in such impossible ways; and my body aches simply looking at them.
I was willing the Brits on to win. I thought it was only fair that having put together such a spectacular show, they deserved to win many medals.
After a while I found myself humming the American national anthem to myself in the bath. It had to happen as they kept winning gold medal after gold medal.
I wish I could find out why the South Koreans do so well at archery and shooting.
I cheered them on but I did not like their national anthem.
It is easy to love the Jamaicans even if you realise that they are putting you to shame.
How can such a little island nation have such talent and who else entertained the whole world as much as Usain Bolt?
Grenada, with a population the size of a crowd at a Lagos bus stop, won a gold medal and their man in the decathlon charmed me with his performance.
And there was Trinidad and Tobago out-throwing the whole world and winning a gold medal.
If as it seems the sprinting genes originate from West Africa, then I found myself wondering how come the present inhabitants of the region are showing no signs of the talent.
It is disconcerting that the entire region of West Africa could be shut out so comprehensively at a world event.
Ivory Coast made it to one final but did not get any medals of any colouring. Nigeria got zilch. Ghana got a grand total of zero.
Nobody has since said anything about it here.
Maybe that is an indication of where we place ourselves these days.
It is a pity though because our national anthem is simply the best - and the world missed out on hearing it.
If you would like to comment on Elizabeth Ohene's column, please do so below.