Ethiopian church patriarch Abune Paulos dies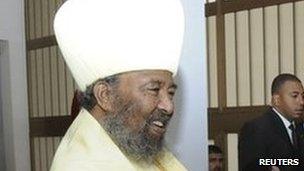 The head of the Ethiopian Orthodox Church, Abune Paulos, has died aged 76, the government has announced.
The foreign ministry said he had been receiving treatment over the past week for an undisclosed illness.
The patriarch's office is due to hold an emergency meeting on Friday to finalise arrangements for what is expected to be a state funeral.
Abune Paulos led Ethiopia's 40 million Orthodox Christians - half the population - since 1992.
Mulugeta Aserate Kassa, an adviser at the Ethiopian embassy in London, told the BBC's Focus on Africa programme the patriarch had been "very healthy" on Wednesday, when he led a service in the Ethiopian capital, Addis Ababa.
He later fell ill and was rushed to hospital, said Mr Mulugeta, a close friend of the patriarch.
The patriarch died early on Thursday morning, he added.
Mr Mulugeta said he could not confirm the cause of death, but the patriarch had suffered from hypertension and diabetes.
He suffered a heart attack, according to opposition website Ethiopian Review.
Abune Paulos was chosen to lead the church in 1992 - a year after the overthrow of the communist government of Mengistu Haile Mariam.
"He brought the church in line to meet the challenges of the 21st Century," Mr Mulugeta said.
"He was a pragmatist at heart."
He was jailed under Mengistu in the 1970s and then went into exile in the US.
Critics accused him of being close to current Prime Minister Meles Zenawi, who has also been ill recently.
Abune Paulos was the first person from the Tigray ethnic group - the same as Mr Meles - to head the country's Orthodox Church, Mr Mulugeta said.
"He was loved by many," he added.
Ethiopia's Orthodox Church used to be part of Egypt's Coptic Christian Church, but got its own patriarch in 1959.
Ethiopia has some of the word's oldest churches, including rock-hewn churches, which are a World Heritage Site, in Lalibella in northern Ethiopia.
Related Internet Links
The BBC is not responsible for the content of external sites.