Uganda's deadly Ebola outbreak under control, says MSF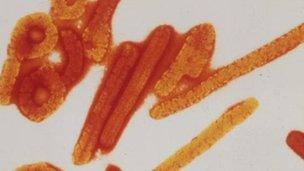 The outbreak of the deadly Ebola virus in Uganda appears to be under control, says the medical charity Medecins Sans Frontieres (MSF).
The last confirmed death from Ebola took place 11 days ago, MSF epidemiologist Dr Paul Roddy told the BBC.
But he warned that if a pocket of the virus was missed it could erupt once more.
He said there had been 19 confirmed and probable deaths during the outbreak.
"We are still receiving admissions of individuals that meet the clinical and epidemiological case definitions, but we have not had a laboratory-confirmed Ebola death in 11 days, and the last identified individual that we received with a positive laboratory confirmation was six days ago," said Dr Roddy.
Dr Roddy said that if there were no confirmed cases for 42 days the outbreak could be considered contained.
The outbreak started in the town of Kagadi in western Uganda.
There is no known cure for Ebola, but patients can be treated for their symptoms with antibiotics, drugs for pain relief and for other diseases like malaria, to strengthen their resistance.
Dr Roddy said a possible source of the virus was the bat population, which might have transmitted it to monkeys, which would have been killed as "bush-meat" by hunters.
Uganda has seen three major Ebola outbreaks over the past 12 years.
The deadliest was in 2000 when 425 people were infected. More than half of them died.
Symptoms include sudden onset of fever, weakness, headache, vomiting and kidney problems.