New Libya parliament elects Mohammed Magarief as head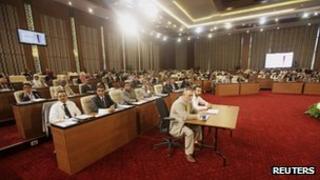 Libya's newly elected interim assembly has elected former opposition activist Mohammed Magarief as its president, a day after it assumed power.
Mr Magarief will lead the assembly in its task of appointing a prime minister and running the country until a constitution is drafted next year.
He is considered a moderate Islamist and beat a liberal in the vote.
The interim National Transitional Council handed power to the 200-member assembly on Thursday.
The NTC, which was formed during last year's revolt that overthrew and killed Muammar Gaddafi, has now been dissolved.
Crowds in central Tripoli celebrated after the handover, which was the first peaceful transition of power in Libya's modern history.
The new assembly is tasked with electing a prime minister and passing laws until full parliamentary elections can be held under a new constitution.
It was elected on 7 July, in the country's first free and fair polls in decades and is a mixture of independent candidates and political parties.
Out of the 80 seats reserved for parties, the broadly secular National Forces Alliance, led by ex-interim Prime Minister Mahmoud Jibril - gained 39 seats, more than any other grouping.
Moderate
Mr Magarief is from Libya's second city, Benghazi, where the uprising against Gaddafi originated. He spent two decades in exile in the United States.
He is thought to be on good terms with the Muslim Brotherhood, the BBC's Rana Jawad reports from Tripoli.
She says his Benghazi roots will placate a lot of fears many in the east had that they would be marginalised by a centralised authority in the capital.
The National Front party, which won three seats in the July vote for the assembly, is an offshoot of the National Front for the Salvation of Libya.
Established in 1981, it unsuccessfully tried to overthrow Gaddafi several times.