Anni Dewani honeymoon murder: South African jailed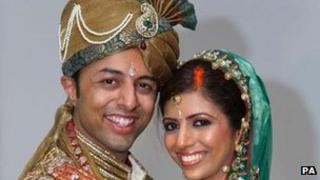 A South African man has been sentenced to 25 years in prison for murdering Swedish woman Anni Dewani during her 2010 honeymoon in Cape Town.
Mziwamadoda Qwabe says he and Mrs Dewani's British husband Shrien Dewani shot her dead.
A South African taxi driver has already accused Mr Dewani of asking him to organise his bride's murder.
Mr Dewani denies plotting to kill his wife. A British court has halted his extradition, citing his mental health.
According to a court document, Qwabe admitted stealing jewellery - including a white gold and diamond bracelet and a Georgio Armani watch - from Mrs Dewani, 28, before killing her.
He said the murder had been organised by Shrien Dewani, 32, and taxi driver Zola Tongo and Xolile Mngeni had also taken part.
Mr Mngeni has a malignant brain tumour that has stopped him going on trial.
Defence lawyer Daniel Theunissen told the high court in Cape Town that Qwabe had agreed to plead guilty to kidnapping, robbery, murder and illegal possession of a firearm.
Prosecutor Eric Ntbazalila welcomed Qwabe's admission.
"It's a positive step for the prosecution because we are now a step closer to getting information on what happened on that day, which will shed some light on the role played by Shrien Dewani," he is quoted by the AFP news agency as saying.
In March, the High Court in London temporarily halted Mr Dewani's extradition. He has been diagnosed as suffering from severe post-traumatic stress disorder and depression.
His lawyers want proceedings to be halted for a year to give him time to recover.
The case in the UK is due to resume in September.
Mr Dewani owns a care home in Bristol, in the west of England, where the couple lived before Mrs Dewani was killed.
Mrs Dewani's uncle Ashok Hindocha said her family was happy with Qwabe's plea but still wanted to know why she was killed.
"The way we feel is that we are going through legal torture. It is extremely stressful for the family," he said.
Shortly after the murder in November 2010, Tongo confessed to killing Mrs Dewani.
Tongo said Mr Dewani offered him about $2,100 (£1,340) to arrange the killing and make it look like a carjacking.
He was sentenced to 18 years in prison following a plea bargain.
Mr Dewani faces charges of murder, conspiracy to commit murder, robbery with aggravating circumstances and obstructing the administration of justice.