Mali's Ansar Dine Islamists 'accept Burkina Faso talks'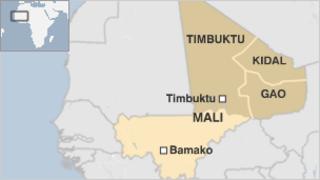 The head of the main Islamist group which has taken control of northern Mali says he accepts Burkina Faso's mediation efforts.
Ansar Dine leader Iyad Ag Ghaly was speaking after meeting Burkinabe Foreign Minister Djibril Bassole in the northern town of Kidal.
Mr Bassole is the most senior diplomat to visit the area seized by Islamist and secular Tuareg forces in March.
West African leaders say they will send an intervention force of 3,000 to Mali.
But the UN Security Council is yet to approve the move, fearing intervention could become a costly and lengthy affair.
Rebel forces seized northern Mali after the army staged a coup in March.
The Islamists are in control of the region's three major towns - Gao, Timbuktu and Kidal - after falling out with the Tuareg groups which have been fighting for independence for the area.
They have been condemned by human rights groups for destroying ancient shrines in Timbuktu and for stoning to death an unmarried couple for having sex outside marriage last week.