Kenyan MPs get new $3,000 seats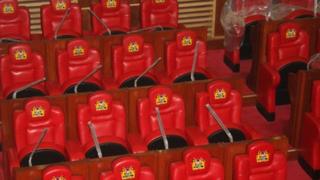 Kenya's newly refurbished parliament, which has been dogged by criticism over the cost of chairs for MPs, has been opened by President Mwai Kibaki.
Costing about $3,000 (£1,900) each, the 350 red chairs were made by the country's prisons department.
The original tender was given to a company outside the country but was cancelled when some MPs discovered that each chair would cost $5,000.
Officials say the $12m renovation brings parliament into the digital age.
"The changes we are making are going to input positively in governance," parliamentary speaker Kenneth Marende told the BBC.
He said electronic voting would let MPs vote according to their conscience rather than be forced to vote in a certain way by party whips.
"Now the member will be completely on his own, he will be independent, he will make up his mind and just press a button."
'Completely ridiculous'
The BBC's Odeo Sirari in the capital, Nairobi, says some refer to the chairs as the most expensive parliamentary seats in the Commonwealth.
MPs crowded into the renovated chamber, which can now also be connected by video link to other parliaments, as the president and the speaker led proceedings during the opening ceremony.
There were a few technical hitches during the first session.
With the new set-up MPs no longer need to jostle to get the speaker's attention, but some of them pressed their buttons without knowing it and others did not do so when they were required to.
"This is a problem of technology - but we'll get used to it," one MP quipped when he eventually mastered the PA system.
The refurbishment began in April 2010 and was scheduled to take one year to complete but this was delayed because of the controversy that surrounded the costing and tendering process, our reporter says.
MP John Mbadi, on the public investments committee, led the uproar over the original order.
"We couldn't understand how members of parliament would sit on a seat costing about 400,000 Kenyan shillings - about $5,000 - that by any standards could put up some small house for someone," he told the BBC.
"It was just completely ridiculous," he said.
Our reporter says many argued the eventual cost of the chairs was still too high.
David Langat, who looks after industrial activities within Kenyan prisons, said all the materials were sourced locally but the chair moulds were expensive.
He told the BBC the chairs, which weigh more than 50kg each, were fireproof and came with a 30-year guarantee.
At the moment Kenya has 220 members of parliament, but the chamber has been fitted with 350 chairs - the number of MPs to be elected next March under the country's new constitution.
Kenyan MPs have often been criticised for giving themselves salary increases - they are among the highest paid in Africa, earning nearly $10,000 a month.