East DR Congo faces 'catastrophic humanitarian crisis'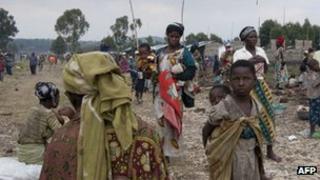 The east of the Democratic Republic of Congo faces a catastrophic humanitarian crisis, an aid agency has warned ahead of a regional summit in Uganda.
The Oxfam charity said millions of people were now at the mercy of militias, with a sharp increase in killings, rapes and looting.
It said the focus on dealing with rebels had diverted the security forces from other vulnerable areas.
The UN says the conflict has forced about 250,000 people from their homes.
The UN and the DR Congo government are accusing neighbouring Rwanda of backing the M23 rebel group - a charge denied by Kigali.
DR Congo President Joseph Kabila, and his Rwandan counterpart Paul Kagame are meeting to discuss the conflict at the regional summit near Uganda's capital Kampala.
They have already agreed to set up a "neutral force" along the border to deal with the M23 and the Rwandan FDLR rebel group which also operates in the area.
Cholera warning
Oxfam warned that there was a "terrifying absence" of state authority and security in vast swathes of eastern DR Congo.
The British-based charity described the situation as chaotic, saying that its local partners in the area reported a steep rise in forced recruitment of children, killing, rape and extortion which were going "virtually unnoticed".
It stressed that the humanitarian consequences were huge - with cholera a real risk and the insecurity making it extremely difficult to deliver aid.
The charity called for protection of civilians to be put at the top of the agenda of the summit in Uganda.
The rebellion in eastern DR Congo is led by renegade general Bosco Ntaganda, who is accused by the UN of receiving military backing from Rwanda.
He belongs to the Tutsi ethnic group like the top leadership in Rwanda, which fears the presence of rival Hutu militias in eastern DR Congo.
Eastern DR Congo has been plagued by fighting since 1994, when more than a million ethnic Hutus crossed the border into DR Congo following the Rwandan genocide.
Rwanda has since twice invaded its much larger neighbour, saying it was trying to take action against Hutu rebels based in DR Congo, such as the FDLR.