Mali unwed couple stoned to death by Islamists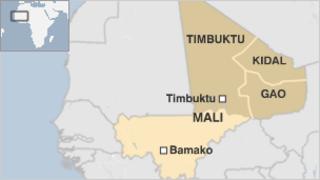 A couple who had sex outside marriage have been stoned to death by Islamists in the town of Aguelhok in northern Mali, officials say.
The man and woman were buried up to their necks, then pelted with stones until they died.
The northern half of Mali has been overrun by rebels - Tuareg and Islamist - following a coup in Mali's capital.
Aguelhok in the region of Kidal was one of the first to be captured by Tuareg separatist rebels.
The Islamists in Aguelhok stoned the couple to death in front of about 200 people, officials said.
"I was there. The Islamists took the unmarried couple to the centre of Aguelhok. The couple was placed in two holes and the Islamists stoned them to death," a local government official told the AFP news agency.
"The woman fainted after the first few blows," he said, adding that the man had shouted out once and then fallen silent.
'Invaders'
A Tuareg rebellion in northern Mali triggered a military coup in March and in the ensuing chaos Islamist groups seized control of several towns in the north.
There has been international condemnation of the Islamists for destroying centuries-old shrines to saints revered by Sufi Muslims in the ancient city of Timbuktu.
Mali's interim President Dioncounda Traore on Sunday evening called for talks with the militants.
He made the call in his first national address two days after returning from two months in France, where he was treated for injuries sustained when he was beaten by supporters of March's coup.
Mr Traore said he would lead talks to form a unity government in Mali and would spearhead efforts to open dialogue with Islamists.
Malians should unite against "invaders", he said, referring to foreign jihadis who are allegedly operating in the north.
"Given the complexity of this crisis and the extent of the distress of our people from the north... we must together, I say together, clear the path ahead to free our country from these invaders, who only leave desolation, deprivation and pain in their wake," Mr Traore said.