London 2012: African Olympians to watch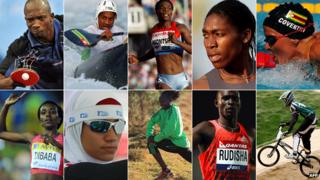 Athletes from 53 African countries have been arriving in London ahead of Friday's opening ceremony for the 2012 Olympic Games.
So who among the continent's sportsmen and women are likely medal contenders?
BBC Africa's Farayi Mungazi picks the 10 African Olympians he thinks are in with a chance:
Segun Toriola - Nigeria: Table tennis player
Segun Toriola is Africa's most-decorated table tennis player. London 2012 will be his sixth Olympics - his first was Barcelona 1992.
In Beijing four years ago, he became the first African so far to make it to the quarter-finals.
The youngest of nine brothers, he plays professionally in France.
A former Commonwealth champion, he has also won every major honour in Africa, dominating the sport there for nearly two decades. But at the age of 38, London 2012 could well be his last Olympics.
Benjamin Boukpeti - Togo: Canoeist
Benjamin Boukpeti's bronze in the men's single kayak slalom in Beijing was the first Olympic medal in Togo's history.
He was also the first black man to win a medal in a slalom event.
Benjamin was born in France to a French mother and Togolese father.
He has struggled with injuries since Beijing, but enters his third Olympics with high hopes.
Kirsty Coventry - Zimbabwe: Swimmer
Kirsty Coventry holds the world record for the 200m backstroke and over her two previous Olympic Games she has won two gold medals, four silvers and a bronze.
The 28-year-old is seen as a national treasure in Zimbabwe - "our golden girl" President Robert Mugabe calls her - and has been voted African Swimmer of the Year five times.
Sifiso Nhlapo - South Africa: BMX rider
A former world silver and bronze medallist, Sifiso Nhlapo has represented South Africa at the World Championships a record nine times.
In Beijing - when BMX made its Olympic debut - he was in contention for a medal when he crashed out, but he still made the final.
The following year, he broke his neck in another accident - but if his body holds up, he is definitely one to watch.
Aya Medany - Egypt: Modern pentathlete
After making her Olympic debut at the Athens Games in 2004, aged just 15, Aya Medany is now one of the most recognisable sports stars in Egypt.
Her sport - the modern pentathlon - demands that she fence, swim, ride horses, run and shoot.
Her religious beliefs demand she do it wearing specific clothing.
She is the only elite pentathlete who competes wearing a hijab.
London 2012 is her third Olympics and she is on a mission to better the eighth position she achieved in Beijing.
Caster Semenya - South Africa: 800m runner
When Caster Semenya stormed to victory at the World Championships in Berlin in 2009, she also ran into a storm of speculation over whether or not she was female.
But although she has struggled to reproduce her world-beating form of 2009, she has been talking up her chances of breaking the 800m world record - the longest standing women's world record in the sport - set in 1983.
This is her first Olympic Games.
And with former world and Olympic champion Maria Mutola as her coach, Semenya is in good hands.
Tirunesh Dibaba - Ethiopia: 5,000m and 10,000m runner
Defending Olympic champion at both 5,000m and 10,000m, Tirunesh Dibaba is regarded by many as the fastest finisher in the history of women's distance running.
Since the Beijing Olympics, she has struggled with injuries - leading to lengthy lay-offs from running.
But her form suggests she may be on the way back to her best.
One of the most-anticipated events of London 2012 is her clash with fellow Ethiopian Meseret Defar and the formidable Kenyan Vivian Cheruiyot.
Amantle Montsho - Botswana: 400m runner
The world, Commonwealth and African champion, Amantle Montsho will be chasing her country's first Olympic medal so far in London 2012, her third Olympic Games.
In Athens she failed to get beyond the heats, in Beijing she made the final, but in London she is the favourite for gold.
Her strength and speed have improved considerably since Beijing and she is now the woman to beat over one lap.
She has said that an Olympic gold medal would mean everything to her and she is extremely light on her feet.
Mary Keitany - Kenya: Marathon runner
Three years ago, Mary Keitany caught the world's attention by winning the World Half-Marathon Championship.
She followed that up by smashing the world record for the distance - a record she still holds.
Since she stepped up to the full marathon distance, she has been just as impressive.
Two third places in New York came either side of a stunning victory in London in what was the fourth-fastest time in history.
It is that track record that makes her one of the favourites for gold at London 2012.
David Rudisha - Kenya: 800m runner
World champion and world record holder, David Rudisha has dominated the 800m for the past two years.
In August 2010, he broke the world record twice inside a week and then took gold at last year's World Championships in South Korea.
And the lanky Kenyan is the red-hot favourite to add the Olympic title to his collection.
London 2012 will be his first Olympic experience - he missed out on Beijing through injury.
His father, Daniel, won silver in Mexico City in 1968.