DR Congo: Fighters agree to gorilla survey in Virunga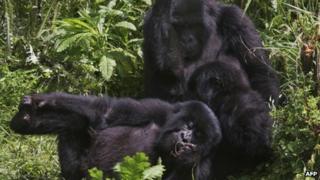 Fighting groups in the Democratic Republic of Congo have agreed to allow a search for critically endangered mountain gorillas to go ahead.
Six families of mountain gorillas in the Virunga Park have been missing since clashes broke out in the area between government and rebel forces.
Rangers were forced to leave the area in May because of fighting between a rebel group and government forces.
The search had been planned for Tuesday but was delayed after fresh fighting.
"We have had to delay 24 hours because of the shelling that took place this morning," park director Emmanuel de Merode told the Associated Press.
"There is very heavy fighting around the park headquarters."
Virunga is home to 480 of the world's 790 remaining mountain gorillas.
The latest unrest began in April with an army mutiny - and more than 200,000 people in the region have been displaced.
Health risk
Mr de Merode said DR Congo's army and the M23 rebel group had agreed to allow the rangers to launch search operations for the gorillas in rebel-controlled territory.
"We are delighted and relieved that all sides in the conflict have recognised the need to protect [DR] Congo's only mountain gorillas," he said in a statement , issued before the search was delayed.
Mr de Merode said 45 rangers would work with local communities to try and track the primates.
"After locating the gorilla families, the park's gorilla monitoring teams will individually identify each member of the family," he said.
"Their health status will also be assessed as mountain gorillas are particularly vulnerable to disease."
Rangers were forced to evacuate Virunga Park in early May because of fierce fighting between government and rebel forces, he said.
"Extensive use of heavy machine guns, mortars and combat helicopters blocked all efforts to monitor and protect gorilla families that make their home in the surrounding forests," Mr de Merode said.
Virunga in eastern DR Congo is one of the most bio-diverse places on Earth and is on the UN list of World Heritage sites in danger.
The mountain gorillas have been threatened with extinction because of expanding human settlements, the long-running conflict in the region, and possible oil exploration in the park.