Nigeria: Deadly flooding in Jos in Plateau state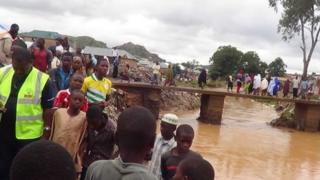 At least 39 people have been killed in flooding in central Nigeria's Plateau state after heavy rainfall caused a dam to overflow near the city of Jos.
A Red Cross spokesman said that about 200 homes, many of them made from mud, had been submerged or destroyed.
Officials say that at least 35 people are missing and that the number of dead is expected to rise.
One resident said heavy rain began to fall on Sunday evening and that many of his livestock had been washed away.
The BBC's Ishaq Khalid in Jos say many people are mourning the loss of loved ones.
Our reporter says he came across a woman who lost six of her eight children in the floods.
The head of the Red Cross in Plateau state, Manasie Phampe, said rescue efforts were continuing.
"Rainwater and water from the Lamingo dam which overflowed swept across several neighbourhoods in the city," he said.
"We are still searching for more bodies as many people have been declared missing."
An official from the Jama'atu Nasril Islam aid organisation told the BBC three more bodies had been found in the rubble on Wednesday morning, but officials say hope of finding more survivors is fading.
"The hope is very slim," Abdussalam Muhammad, co-ordinator of the National Emergency Agency in central Nigeria, told the BBC, adding that his team had found no bodies on Wednesday.
Our correspondent says the floods have left 3,000 people homeless and they are taking shelter in government buildings in the city.
Zainab Muhammad told the BBC's Hausa service she had lost all her property.
"Our house has been washed away. The water has carried the food meant for the fasting period. We do not have food," she said.
Our reporter says although Nigeria has been hit by a series of deadly floods in recent years, such deluges are unusual in the mountainous city of Jos.