Rwanda military aid cut by US over DR Congo M23 rebels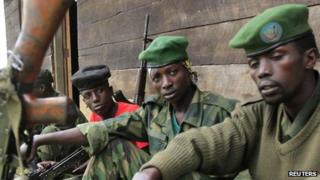 The US has cut military aid to Rwanda following accusations it is backing rebels in neighbouring Democratic Republic of Congo.
The US state department says the funding - $200,000 (£128,000) - will be reallocated to other countries.
Rwanda has rejected reports by the UN and rights groups that it is supporting the rebels, including the M23 movement, in eastern DR Congo.
As a result of the fighting, 200,000 people have fled their homes.
Eastern DR Congo has been plagued by fighting since 1994, when more than a million ethnic Hutus crossed the border into DR Congo following the Rwandan genocide, in which some 800,000 people - mostly Tutsis - died.
Rwanda has twice invaded its much larger neighbour, saying it was trying to take action against Hutu rebels based in DR Congo. Uganda also sent troops into DR Congo during the 1997-2003 conflict.
The BBC's Gabriel Gatehouse, on the Congo-Rwanda border, says although $200,000 is a tiny sum to cut, it is hugely symbolic.
It means Washington - Rwanda's staunchest international defender - believes the government in Kigali is destabilising the region by supplying the rebels, our correspondent explains.
A recent UN report seen by the BBC accused Rwanda of backing the rebels.
The report cited Rwandan soldiers who had defected from Congolese rebel forces. They told the UN they had been trained in Rwanda under the pretext of joining the army, before being sent over the border to fight.
The Rwandan government denied the allegations.
The Congolese rebels who took up arms in April named themselves "M23" after a failed peace agreement signed with DR Congo's government on 23 March three years ago.
Many of them are ethnic Tutsi - like the majority of Rwanda's leadership.