Bin Laden cook arrives in Sudan after Guantanamo release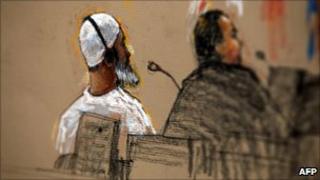 Osama Bin Laden's former cook and driver has returned to his native Sudan, officials and local radio said.
Ibrahim al-Qosi arrived in Khartoum on a US military flight from Guantanamo Bay in Cuba, where he had been detained for more than a decade.
He was captured in 2001 in Afghanistan in the wake of the US invasion after the September 11 attacks.
In February 2011 his sentence was reduced to two years after he agreed a plea deal with military prosecutors.
Mr Qosi, who is in his 50s, was originally sentenced to 14 years after he admitted in July 2010 to working as Bin Laden's bodyguard and helping him avoid capture by US forces.
Sudan's Omdurman radio station quoted Mr Qosi saying he had a difficult time and "unfair detention in the infamous Guantanamo prison", according the Associated Press.
Mr Qosi was the first Guantanamo Bay prisoner to be tried by military tribunal, using President Barack Obama's revised policy on detainees.
A spokesman for Sudan's foreign ministry told the AFP news agency that there had been "some sort of communication between American authorities and Sudanese authorities" ahead of his flight.
Mr Qosi has said that his support for al-Qaeda started in 1996 and he went to Afghanistan to work for Bin Laden while the late al-Qaeda leader was based in the south-eastern city of Jalalabad.