Nigeria court strips Russia's Rusal of Alscon aluminium plant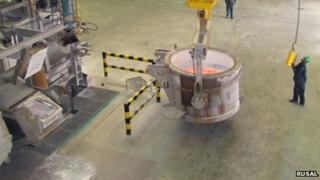 Nigeria's Supreme Court has ordered that the world's biggest aluminium producer, Rusal, be stripped of its ownership of the country's former state-owned aluminium processing plant.
It said the sale of Aluminium Smelter Company of Nigeria (Alscon) to the Russian company was illegal.
The judge said US-based firm BFI Group had offered double Rusal's amount.
Rusal told Reuters the ruling was against Nigeria's privatising agency and would not affect its ownership.
It took a controlling stake in the processing plant in 2007 and owns 85% of the shares with the rest belonging to the Nigerian government.
A parliamentary committee is currently investigating the privatisation over the last 10 years of some of Nigeria's state assets amid suspicions of corruption and that they were undervalued when sold.
'Key African asset'
BFI took Nigeria's Bureau of Public Enterprises (BPE), the government agency which oversaw Alscon's privatisation, to court in 2004, as Rusal's offer of $205m (£132m) was accepted over its bid of $410m.
Justice John Afolabiyi Fabiyi said that BFI had been the preferred bidder at the auction and was wrongfully disqualified later.
"This litigation relates to claims of BFI Group to BPE of Nigeria, which means that it's [for the] Nigerian government to bear responsibility for such ruling and that it cannot have [an] effect on Rusal's ownership of Alscon shares," a spokeswoman for the Russian company told Reuters news agency.
According to Rusal's website, Alscon, which has an annual capacity of 120,000 tonnes, is one of its "key African assets" and includes an aluminium smelter, a gas-fired power station and a port on the Imo River.
Since 2007, the Russian metals giant says it has modernised the plant to "boost its production efficiency and streamline logistics".