Sudanese refugee camp horrific, says MSF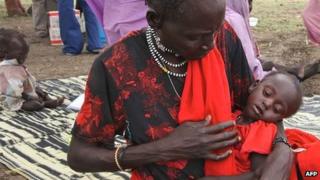 Mortality rates in a refugee camp in South Sudan are nearly double the threshold for an emergency, Medecins Sans Frontieres has warned.
This means that about eight children are dying every day in the camp, which houses 40,000 people from the conflict in Sudan's Blue Nile state.
The medical charity said people were dying of preventable diseases because of "horrific living conditions".
Latrines have overflowed, contaminating water sources, because of heavy rains.
South Sudan seceded from Sudan exactly a year ago next Monday - as part of a deal to end years of civil war.
The aid agency International Rescue Committee says the new nation is marking its first year of independence with development at a "virtual standstill".
'Exposed on flood plain'
Jamam camp is one of three refugee camps in South Sudan's Upper Nile state where about 120,000 people have fled.
"These people have fled terrible violence in Sudan and lost family members during their arduous journeys for safety, and now they are sitting exposed in refugee camps on a flood plain and dying from preventable diseases due to horrific living conditions," Tara Newell, MSF emergency co-ordinator in Jamam, said in a statement.
She said urgent action was needed by the UN refugee agency.
"What's needed is for all agencies involved, led by the UNHCR, to come up with a solution together that can remove these refugees from the health risks associated with the dire living conditions in the camp. We have to proceed with a great sense of urgency."
The UN says it has been trying to move people from unsuitable locations but the pace of new arrivals and shortfall in funding and resources has compounded the challenge.
"It's a very complex and difficult situation and we're working with NGOs such as MSF and other health actors and doing our best," UNHCR's Teresa Ungaro told the BBC's Network Africa programme.
"We're juggling the safety of refugees with trying to identify places with adequate water, with finding sites which are free of landmines," she said.
A third camp in Upper Nile had been opened at the end of May but a sudden influx of 32,000 refugees meant that they had to be given priority and moved from insecure border areas, where people have been bombed in the past, before transferring those in Jamam, she said.
Since last year's secession conflicts have erupted in two of Sudan's border states where communities traditionally allied to the south found themselves north of the border after Juba's independence.
"From the standpoint of improving the quality of life for millions of South Sudanese people, these first 12 months of independence can be written off as a lost year," Susan Purdin, head of IRC's aid programmes in South Sudan, said.
South Sudan's decision to halt oil production amid unresolved disputes with Sudan meant it virtually had no revenue for use in building hospitals, roads and water systems, the aid group said.
Both Sudan and the South are reliant on their oil revenues, which account for 98% of South Sudan's budget. But the two countries cannot agree how to divide the oil wealth of the former united state. Some 75% of the oil lies in the South but all the pipelines run north. It is feared that disputes over oil could lead the two neighbours to return to war.
Although they were united for many years, the two Sudans were always very different. The great divide is visible even from space, as this Nasa satellite image shows. The northern states are a blanket of desert, broken only by the fertile Nile corridor. South Sudan is covered by green swathes of grassland, swamps and tropical forest.
Sudan's arid north is mainly home to Arabic-speaking Muslims. But in South Sudan there is no dominant culture. The Dinkas and the Nuers are the largest of more than 200 ethnic groups, each with its own languages and traditional beliefs, alongside Christianity and Islam.
The health inequalities in Sudan are illustrated by infant mortality rates. In South Sudan, one in 10 children die before their first birthday. Whereas in the more developed northern states, such as Gezira and White Nile, half of those children would be expected to survive.
The gulf in water resources between north and south is stark. In Khartoum, River Nile, and Gezira states, two-thirds of people have access to piped drinking water and pit latrines. In the south, boreholes and unprotected wells are the main drinking sources. More than 80% of southerners have no toilet facilities whatsoever.
Throughout the two Sudans, access to primary school education is strongly linked to household earnings. In the poorest parts of the south, less than 1% of children finish primary school. Whereas in the wealthier north, up to 50% of children complete primary level education.
Conflict and poverty are the main causes of food insecurity in both countries. In Sudan, many of the residents of war-affected Darfur and the border states of Blue Nile and South Kordofan, depend on food aid. The UN said about 2.8m people in South Sudan would require food aid in 2013. The northern states tend to be wealthier, more urbanised and less reliant on agriculture.