US sanctions on Eritrea spy chief Negash over al-Shabab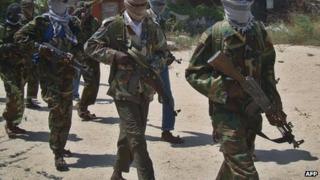 The US has imposed sanctions on six people, including Eritrea's spy chief and a senior military officer, for allegedly aiding Somali militants.
A Muslim cleric in Kenya and a Sudanese man are also accused of providing financial and logistical support to the Islamist al-Shabab group.
Two other Kenyans named by the US Treasury Department are in jail.
Eritrea is already subject to UN sanctions for supporting the al-Qaeda aligned militants, which it denies.
Al-Shabab, which joined al-Qaeda earlier this year, is fighting a UN-backed government in Somalia.
The group still controls much of the country but is under pressure from pro-government militias, an African Union force and troops from Ethiopia - which remains Eritrea's bitter foe after their 1998-2000 border war.
'Training fighters'
"The United States is determined to target those who are responsible for the ongoing bloodshed and instability in Somalia," Adam Szubin, the director of the US Treasury's Office of Foreign Assets Control, which administers the sanctions, said in a statement .
The move will freeze the assets of the men in the US and block them from doing business in the country.
The US statement said that Eritrea's intelligence officer Col Tewolde Habte Negash was the principal architect of his government's relationship with al-Shabab, going back eight years, and was the main co-ordinator of financial and logistical support.
"He appears to have been indirectly involved in the training of al-Shabab fighters between 2007 and 2009 at an Eritrean training camp for instruction in suicide bombing and vehicle-borne improvised explosive devices," it said.
The cleric, Aboud Rogo Mohammed - who has preached in Kenya's capital, Nairobi, and in the coastal city of Mombasa - is accused of fundraising for al-Shabab.
"He continues to exert influence over extremist groups in East Africa as part of his campaign to promote violence throughout East Africa," the statement said.
"As an ideological leader, Aboud Rogo Mohammed has used an extremist group as a pathway for radicalisation and recruitment of principally Swahili-speaking Africans for 'action' in Somalia."
Sudanese militant Abu Fahirs is accused of helping foreign fighters travel to al-Shabab training camps.
Of the two Kenyans named, one is in prison in Uganda awaiting trial in connection with the double suicide bombing in Kampala, which killed 76 people watching the 2010 football World Cup final on television.
Uganda is the main contributor to the African Union force in Somalia backing the interim government that is due to be replaced next month with the country's first elected government in more than 20 years.
Somalia has been without an effective central government since 1991, and has been wracked by fighting ever since - a situation that has allowed piracy and lawlessness to flourish.