Nigerian men accused of Al-Qaeda in the Arabian Peninsula links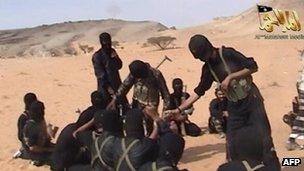 Two Nigerian men have been accused of having links with al-Qaeda and recruiting members to train in Yemen.
Olaniyi Lawal, 31, and Luqman Babatunde, 30, both pleaded not guilty at a court in the capital, Abuja.
They are charged with receiving funds from Al-Qaeda in the Arabian Peninsula (AQAP) and seeking to "further the objectives" of the group.
Nigerian Umar Farouk Abdulmutallab, who had links to AQAP, was jailed for life by a US court in February.
The "underpants bomber" pleaded guilty to trying to blow up a US-bound flight on Christmas Day 2009.
Prosecutors said he had been radicalised by US-born cleric Anwar al-Awlaki, whose roots lay in Yemen and was said to be an AQAP leader.
Nigeria's Islamist militant group Boko Haram has been linked to a different branch of al-Qaeda in north Africa.
Boko Haram has been held responsible for the deaths of hundreds of people in attacks in northern Nigeria. US officials have said it is likely to be sharing funds, training and explosive materials with Al-Qaeda in the Islamic Maghreb and Somalia's al-Shabab.
Boko Haram, which says it is fighting to make Nigeria an Islamic state, has not commented on these accusations.
However, there has been no suggestion so far that the two men - who are believed to originally hail from the south - are connected to Boko Haram, which is mostly active in the north.
Court papers said Mr Lawal and Mr Babatunde have been charged with receiving "monies in Saudi riyals and US dollars equivalent to one million naira" (about $6,200; £4,000) from AQAP.
They were also accused of planning to use the money "to recruit and transport prospective members of a terrorist group to Yemen", violating Nigeria's anti-terrorism law.
Nigeria's population is roughly half Christian, half Muslim, with the Muslim population concentrated in the north.
Although relations between the two communities have been largely peaceful, there has been tension over the imposition of Islamic law in the north and scores of church bombings by Boko Haram in recent months.