South Africa's Chimp Eden maulers escape death penalty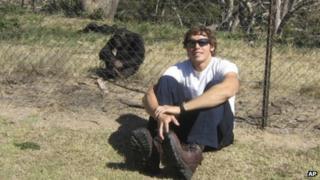 Two chimpanzees which mauled an American student in South Africa will not be put down, a government investigator says.
They were defending their territory and there was no evidence of negligence by their keepers, said Dries Pienaar.
Andrew Oberle was studying at a sanctuary in north-eastern South Africa when he was attacked last Thursday.
The chimps tore off some of his fingers, a testicle and mauled his head.
Mr Pienaar, a conservationist who is leading the investigation into the attack said the animals were defending their territory.
He said Mr Oberle, a Masters student in anthropology and primatology at the University of Texas at San Antonio, should not have crossed a fence that marked a "no-go zone".
"The only thing that happened is Andrew stepped over the small barrier fence and went right up to the electric fence," Mr Pienaar told the Associated Press.
"We all know that they are tame chimps, but he shouldn't have done that... I'm not having the chimps put down. I don't think there's reason for that," he said.
Safety fence
Mr Oberle is in a stable condition, under a medically induced coma in hospital.
His family have flown from the United States to South Africa to join him.
Mr Oberle was showing tourists around the Chimp Eden sanctuary when he was attacked.
He wanted to remove a stone that the chimps could throw at passers-by.
As Mr Oberle went to climb back over the fence, the chimps grabbed his foot, pulled him down and dragged him 30 metres away.
Eugene Cousins, a manager at Chimp Eden, said that he fired warning shots to scare off the animals but then one of the chimps attacked his vehicle, smashing the bonnet and windshield.
He fired another shot through the windscreen, wounding the chimpanzee, he told AFP news agency.
Chimp Eden was founded by renowned primatologist Jane Goodall in 2006 to house chimpanzees rescued from central Africa.