Niger delegate stranded in Brazil after Rio+20 talks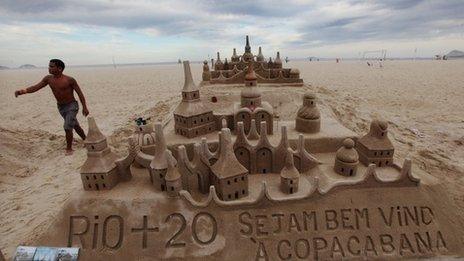 A delegate from Niger who attended a major UN environment conference last month in Brazil has been stranded in Rio de Janeiro.
Hadijatou Aboubacar Anadou was among thousands of delegates at the Rio+20 talks, which closed on 22 June.
But afterwards she was mugged, lost her passport and all her money.
An airport worker has taken pity on her and given her accommodation as she waits for emergency documents to arrive from Niger's embassy in the US.
The BBC's Julia Carneiro in Rio de Janeiro says Ms Anadou, who is 53 and works for Niger's education ministry, is caught in diplomatic no man's land.
The West African country has no diplomatic representation in Brazil.
She has sought help from Brazil's federal police, the foreign affairs office and the local government, but none of them have been able to aid her return home.
A woman working at the airport offered to help her when she saw her crying, our reporter says.
Her purse with all her documents, credit card and money was stolen while she was at a shopping centre where she had gone to buy presents for her family, including her daughter's wedding gift.
"My daughter is going to get married on 14th July. I have to organise everything. Everybody is waiting for me," she said.
Our reporter says she has booked her fourth attempt to leave Brazil later on Tuesday and hopes the documents will arrive from the US in time.
Related Internet Links
The BBC is not responsible for the content of external sites.