Rwanda helped launch DR Congo rebels, say UN experts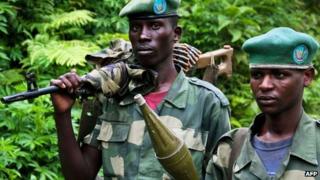 Rwanda has played a key role in creating a rebel group and sustaining a mutiny in neighbouring Democratic Republic of Congo, UN experts have said in a leaked document.
Senior Rwandan military officials are said to have given "direct assistance" in setting it up, as well as support in the form of weapons, ammunition, logistics and recruits.
It appears to corroborate other recent allegations of Rwandan support.
The Rwandan government denies this.
An estimated 200,000 people in the region have fled in the three months since the mutiny, when several hundred Congolese soldiers defected to form a rebel group known as M23.
'Overwhelming evidence'
The UN's evidence - contained in an annex to a recent report by the UN's group of experts - has not yet been made public, but was leaked to Foreign Policy magazine .
The BBC understands from other sources familiar with the document that the quotes are accurate.
The BBC's East Africa correspondent Gabriel Gatehouse says the information in the annex document is unequivocal and damning.
"The group has gathered overwhelming evidence demonstrating that senior RDF [Rwandan Defence Forces] officers, in their official capacities, have been backstopping the rebels through providing weapons, military supplies, and new recruits," it says.
This was in direct contravention of UN Security Council Resolutions, violating arms embargos and sanctions, it said.
Our reporter says it is not the first time such allegations have surfaced, but evidence of Rwanda's role in this crisis appears to be mounting.
In a statement , Rwandan Foreign Minister Louise Mushikiwabo has again categorically denied her country has been involved in supporting the rebellion, and said the "media frenzy" over the allegations served "only to fan the flames of conflict".
The area has suffered years of fighting since 1994, when more than a million ethnic Hutus fled across the border into DR Congo following the Rwandan genocide, in which some 800,000 people, mostly Tutsis, were slaughtered.
Rwanda has twice invaded its much larger neighbour, saying it was trying to take action against Hutu rebels based in DR Congo.
The current mutiny is being led by fighters from Gen Bosco Ntaganda's former rebel group the CNDP, which was integrated into the Congolese national army in 2009 as part of a peace deal.
Known as "the Terminator" and wanted by the International Criminal Court, Gen Ntaganda has fought for various militias over the years but has told the BBC he has no involvement in the recent army mutiny.