Rwanda genocide: Nizeyimana convicted of killing Queen Gicanda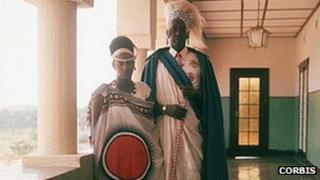 A UN war crimes court has sentenced an ex-military officer to life in prison after being found guilty of involvement in Rwanda's 1994 genocide.
Ildephonse Nizeyimana, 48, was convicted of ordering the killing of the former Tutsi queen, Rosalie Gicanda, and other murders.
The International Criminal Tribunal for Rwanda (ICTR) acquitted Nizeyimana of rape charges.
Up to 800,000 people were killed in 100 days between April and June 1994.
Grave crimes
Nizeyimana was arrested in 2009 in Uganda.
He was head of intelligence and military operations at an elite military training school, known as the ESO, during the genocide.
The court, which is based in Arusha in neighbouring Tanzania, found that he ordered troops to kill several people, including the Tutsi queen.
According to a 1999 report by US-based Human Rights Watch, Hutu soldiers took the queen from her home in the south-eastern town of Butare and shot her behind the national museum.
They also murdered several women who looked after the queen, who was about 80 years old when she died.
She was the widow of King Mutara III, who died in 1959 shortly before the country became a republic.
"Having considered the gravity of the crimes... the chamber has the discretion to impose a single sentence and chooses to do so," the ICTR said in a statement on its website.
"Considering the relevant circumstances, the chamber sentences Ildephonse Nizeyimana to life imprisonment," the statement said.
The ICTR was set up to try the ringleaders of the genocide - it has convicted 54 people and acquitted eight so far.
It is due to be closed down at the end of the year.