Nigeria's Boko Haram: Damaturu and Kaduna under curfew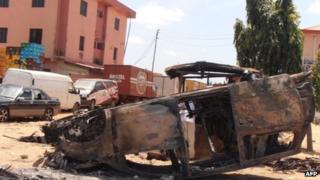 Nigerian authorities have imposed a curfew in the north-eastern city of Damaturu after clashes between Islamist militants and the army - and reinstated a Kaduna state-wide ban on movements.
The violence broke out on Monday, escalating overnight, with unconfirmed reports suggesting at least 25 deaths.
It follows Sunday's suicide bomb attacks, claimed by Boko Haram, on churches in Kaduna state.
Nigeria's main Christian body called the attacks "religious cleansing".
Sunday's suicide bomb attacks killed 16 people and sparked deadly revenge attacks in Kaduna, killing scores.
In a statement released to the AFP news agency, the Christian Association of Nigeria said the bombings were a clear indication that Boko Haram "has declared war on Christians and Christianity in Nigeria".
"The pattern of bombings and gun attacks suggests to us a systematic religious cleansing which reminds Christians of the genesis of a Jihad," it said.
The Christian group also criticised President Goodluck Jonathan's response, saying this had "cast a hallmark of weakness" on his presidency.
Scared
The Nigerian Red Cross told the Associated Press news agency that at least 25 people had died in the clashes at Damaturu - 20 civilians and five members of the security forces.
Other observers suggest the death toll may be higher.
A senior hospital official told AFP: "So far we have 34 dead bodies in the morgue. The figure is likely to rise."
Residents were too scared to leave their homes.
Gunfire was now restricted to a few areas of the city, Yobe State police chief Patrick Egbuniwe is reported as saying.
Damaturu, the capital of rural Yobe state, is 130km (80 miles) west of Maiduguri, the stronghold of the radical Islamist group.
Kaduna state authorities have reimposed a 24-hour curfew after an outbreak of violence in parts of Kaduna city on Tuesday.
Reuters reports that Muslim youths have taken to the city's streets and fired guns, burnt tyres and destroyed a church.
Revenge attacks between Christians and Muslims have been occurring since Sunday's bombings.
Boko Haram - which means "Western education is forbidden" - has said it carried out the attacks.
The group wants Islamic law, or Sharia, to be imposed across Nigeria - and has carried out a series of deadly attacks in the past two years.