Nigeria's Boko Haram 'bombed Kaduna churches'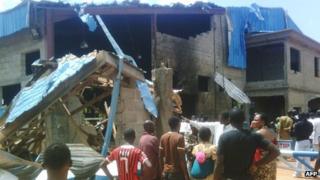 Radical Islamist group Boko Haram has said it was behind Sunday's suicide bombings of three churches in the northern Nigerian state of Kaduna.
The blasts were in revenge for what it said were previous Christian "atrocities" against Muslims, the group said in an email sent to local media.
At least 50 people were killed in the bombings and reprisal killings, the Red Cross says.
Boko Haram has carried out a series of deadly attacks in the past two years.
Retaliatory attacks
The Red Cross says another 131 people were injured by the violence - the third weekend in a row in which Boko Haram has carried out bombings on churches.
Two of Sunday's blasts happened in the Wusasa and Sabon-Gari districts of the town of Zaria and a third hit the nearby city of Kaduna, the state capital.
Rioting broke out in different parts of Kaduna state as youth took to the streets in anger and attacked Muslims.
BBC Nigeria correspondent Will Ross in Lagos says the church bombings are a serious threat to the stability of Nigeria because existing religious divisions mean there is a danger of retaliatory attacks spiralling out of control.
Kaduna lies on the dividing line between Nigeria's largely Christian south and mainly Muslim north.
It is one of the areas where conflict between rival religious and ethnic groups has claimed many hundreds of lives.
Kaduna state governor Patrick Yakowa told the BBC the weekend's attacks were "sad and disheartening" and a blow to government efforts to promote peace and reconciliation between Christians and Muslims.
In an emailed statement in the local Hausa language, Boko Haram spokesman Abul-Qaqa said: "Allah has given us victory in the attacks we launched today against churches in Kaduna and Zaria towns which resulted in the deaths of many Christians and security personnel."
The group justified the weekend attacks on churches by saying they were carried out in revenge for what it described as government-backed killings of Muslims in central Nigeria during earlier bouts of violence.
Christians were warned to "either embrace Islam or... never have peace of mind," the statement said.
A 24-hour curfew has now been relaxed to allow people to move about in the hours of daylight, but correspondents say there is still a heavy military presence.
The Nigerian army says it has recovered a mobile phone that belonged to one of the suicide bombers.
Boko Haram - which means "Western education is forbidden" - wants to impose strict Muslim law across Nigeria.
Since 2009, it has targeted police stations and other government buildings, churches and schools.
Hundreds of people have died in the attacks, and analysts suggest the group is trying to trigger clashes between Christians and Muslims.