Gambia's Fatou Bensouda sworn in as ICC prosecutor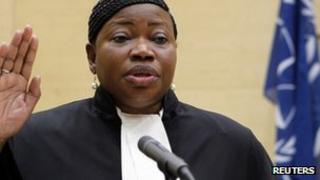 Fatou Bensouda, a former Gambian justice minister, has been sworn in as the International Criminal Court's new chief prosecutor in The Hague.
She becomes the first African to hold the post.
She is taking over from Argentinian Luis Moreno Ocampo, who is stepping down after nearly a decade in office.
The BBC's Anna Holligan says one of Ms Bensouda's earliest priorities will be bringing Saif al-Islam Gaddafi, the son of the late Libyan leader, to justice.
Ms Bensouda will also be overseeing the ICC's first trial of a former head of state, when the Ivory Coast's ex-President Laurent Gbagbo appears in court.
Liberia's former leader, Charles Taylor, was tried by a UN-backed court trying those responsible for the atrocities during Sierra Leone's civil war.
'Calm and sensitive'
At the swearing-in ceremony in The Hague, Ms Bensouda praised the work conducted by her predecessor and promised to make the victims of crime her priority.
"As I begin my tenure, moving forward in consolidating current practices, the office will continue to forge ahead with its investigations and prosecutions," she said.
"It will, in particular, also continue to look for innovative methods for the collection of evidence to bring further gender crimes and crimes against children to the court, to ensure effective prosecutions of these crimes while respecting and protecting the victims."
Ms Bensouda has spent the past eight years serving as Mr Moreno-Ocampo's deputy.
Our correspondent says that although Ms Bensouda is not new to The Hague, her appointment comes at a time when international justice is increasingly in the spotlight.
She is also taking over during a tense time at the ICC - with four members of staff currently being held in detention in Libya.
Our correspondent says Ms Bensouda has a reputation for controlled calm and sensitivity, which may well have helped her win the job.
The fact that all the suspects wanted or currently on trial at the ICC are African has come in for criticism, with the prosecutor's office often accused of unfairly targeting the continent.
It is hoped that because Ms Bensouda is herself an African lawyer, this could help to silence those critics, our reporter says.
In March, Congolese warlord Thomas Lubanga received the first verdict reached by the court since it was set up 10 years ago.
The prosecution team have asked for a 30-year sentence after he was convicted of recruiting and using child soldiers between 2002 and 2003 in the eastern Democratic Republic of Congo.