Libya revokes Muammar Gaddafi praise law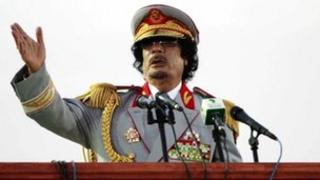 Libya's supreme court has overturned a law that criminalised the glorification of former leader Muammar Gaddafi, his regime, his ideas or his sons.
The court ruled that the law, known as Law 37, was unconstitutional.
Law 37 was originally passed in May by the National Transitional Council's Legal Committee.
Libya's Human Rights Council and civil society groups appealed against the law, which was also condemned by international human rights watchdogs.
Under the original law praising or glorifying Muammar Gaddafi was punishable with a prison sentence.
New judiciary
There were also articles in the law criminalising any attack on the 17 February revolution that toppled the former regime, as well as insulting Islam or offending the state and its institutions.
Although the prison terms were unspecified they could range from three to 15 years under Libya's penal code, according to AFP news agency.
The head of Libya's Human Rights Council told the BBC the ruling would instil more trust in the local judiciary.
The BBC's Rana Jawad, in Tripoli, says that the latest ruling is seen by some as a rare example of what they hope will be Libya's new independent judiciary.
Not long ago, our correspondent says, the former regime and the country's judiciary were seen by Libyans as one and the same.