Nigeria: Jos motorbike taxi ban prompts clashes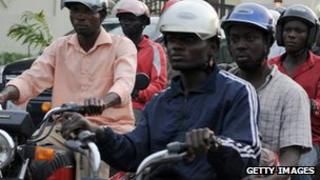 Clashes have occurred in Nigeria's central city of Jos after a ban on motorcycle taxis was imposed there amid security concerns.
Motorcyclists fought with authorities trying to enforce the ban on Wednesday, two days after it was announced by Plateau state's government.
It came after Islamist militants attacked a church during a service on Sunday, triggering reprisal attacks.
Authorities fear motorcycles are being used to carry out attacks.
Rival groups, split along religious, ethnic and political lines, have clashed in Plateau state on numerous occasions over the past decade.
The city has also become the target of several attacks by the militant Islamist Boko Haram group in the last 18 months.
Last year, the authorities in the group's stronghold in the north-eastern city of Maiduguri also banned motorbikes to prevent drive-by attacks.
Church attack condemnation
The ban on commercial motorbikes came into force in Jos and surrounding towns on Tuesday.
The BBC's Ishaq Khalid in Jos says motorcycle taxi drivers have been angered by the ban, which they say will ruin their livelihood and leave them with few alternative employment options.
There are fears that it will further inflame divisions in the state as most the of the drivers are Hausa-speakers Muslims.
It is not the first time an attempt has been made to enforce a ban on commercial motorbikes, known as "okadas".
Previous efforts to enforce it have been met with violent protests prompting authorities to rescind the ban - most notably in June 2010.
Plateau state lies in Nigeria's so-called Middle Belt, between the mainly Muslim north and Christian south.
In the most recent Boko Haram attack in Jos, at the weekend, a suicide bomber blew himself up outside a church wounding at least 50 people.
Police said the attacker had driven as close to the church as he could before detonating himself.
Six people were then killed in the city in reprisals when angry demonstrators took to the streets in protest.
Boko Haram, which wants to impose Sharia across Nigeria, has carried out a number of attacks on churches in recent years, killing hundreds of people.
The Anglican archbishop of Jos, Ben Kwashi, has condemned the church attacks but said reprisals were "futile" and only served to aggravate the situation.
Boko Haram - whose name means "No to Western education" - has also attacked schools, police stations and government buildings in northern Nigeria, and is said to be continually widening its targets.
Its mosque and headquarters were located in Maiduguri, the capital of Borno state, until a military assault in 2009 destroyed them and left hundreds dead.