Libya unrest: UK envoy's convoy attacked in Benghazi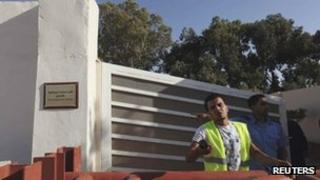 Two British bodyguards have been injured in an attack on a convoy carrying the British ambassador to Libya, embassy officials have said.
Ambassador Dominic Asquith and all other staff were unhurt in the attack in Benghazi.
A rocket-propelled grenade hit the car carrying the consular team's security escort, a Libyan official said.
It is not known who carried out the attack, which comes days after the US mission was targeted.
The Red Cross and UN have also come under attack recently.
The US mission in Benghazi was targeted after Washington's announcement of the death of Abu Yahya al-Libi, a Libyan who was a top al-Qaeda operative in Pakistan.
Anti-Gaddafi stronghold
An embassy spokeswoman told the BBC: "A convoy carrying the British ambassador to Libya was involved in a serious incident in Benghazi this afternoon.
"Two British 'close protection officers' were injured in the attack. They are receiving medical treatment."
The UK Foreign and Commonwealth Office said it was "working with the Libyan authorities to work out who was responsible".
Benghazi served as the headquarters of the Libyan rebels in their battle to depose Muammar Gaddafi last year.
It has seen a number of attacks on international staff this year in which nobody was injured
Last week, a bomb was thrown at the front gate of the US diplomatic mission in the city
The offices of the Red Cross were hit by a rocket-propelled grenade in May
In April, a bomb targeted a convoy carrying the head of the UN mission to Libya