African viewpoint: Nigeria's grief and gaping spectators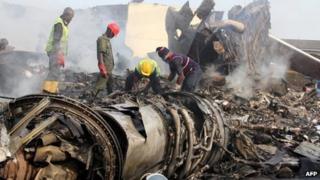 In our series of viewpoints from African journalists, Sola Odunfa looks at how the tragic loss of 153 lives at the Dana Air crash in Lagos sparked an outpouring of nationwide mourning and grief.
No-one in Nigeria was prepared for the horrific tragedy which occurred near Lagos on the 3 June.
It has been a long, long time since the entire nation was so thrown into genuine grief by a single incident.
From the south to the north, east to west, sorrow engulfed the country as if each household nationwide was mourning a private loss.
This is the quality of our common humanity.
Tragic news
I decided to spend that Sunday as quietly as possible, alone, watching television comedy and amusing myself with suitable entries on Facebook.
All was well until late in the afternoon when the BBC correspondent Will Ross came in clutching his laptop as usual.
In his relatively short time in Nigeria, Will seems to have dropped the British impersonal "hello" and has instead imbibed the Nigerian tradition of greeting people heartily.
He said the proper "Good afternoon, Sola" but hurried into his office.
I responded appropriately and followed him into his office to at least find out more about the big story that was chasing him on this happy day.
Will looked grey and could not talk as he set up his laptop.
He flapped his arms momentarily and dropped them.
"A plane crash."
I got the message.
"Where?" I shouted.
"Lagos."
I noticed that his eyes were red.
I ran out to the outer office and tuned the TV to a domestic news station.
The tragic news was streaming at the bottom of the screen.
I became agitated and without thinking, I started working the epileptic phone, seeking information from officials, colleagues and friends with appropriate connections.
The Dana airplane, which took off with 153 passengers, including 12 children from Abuja, crashed into a street in the densely populated Iju town just outside Lagos.
Watched by scores of horrified residents in their houses and on the streets, the screams of trapped passengers, their unspeakable terror in the burning fuselage.
One's imagination had no limits.
Gaping spectators
As expected, thousands of residents and their Sunday visitors rushed to the scene.
They got there alright, but all they could do was gape at the horror before them and wail.
They were not medics, they were not trained rescuers, they were merely there to satisfy their curiosity.
Their best response was to throw water in buckets and plastic sachets at the periphery of the fire.
Indeed, the road to hell is paved with good intentions.
The huge crowds were officially, at best, a nuisance - for when the search and rescue teams arrived, all the access roads to the area were blocked by rock-solid human walls.
The officials were incapacitated for hours during which the inferno played itself out over its 153 human victims.
The area was secured the following morning for the rescuers to work seriously but by then there was no-one to be rescued.
By Monday morning, internet social media sites and cell phones were filled with mourning texts by friends of the victims.
The victims were listed with their full descriptions.
No accident in Nigerian history has ever been given such coverage by citizens.
Lost promise
Most of the victims were young upwardly mobile persons, they were well educated, they were in jobs which gave them social exposure.
They were lively, they were symbols of the new generation of Nigerians in the professions.
I did not know anyone of them personally but who would not shed tears at the news that a party of 10 girls from Lagos, who were radiant bridesmaids at a society wedding in Abuja the previous day, all died in the crash.
Who would shrug off news of the gruesome death of a young family of six on the same flight.
And in Lagos, a woman who has completed all arrangements for her daughter's wedding in September is asking sympathisers to her residence. Who will wear her wedding gown now?
And in the Ikeja capital of Lagos State, a cake ordered by the children for their father's birthday is sitting on the dining table at their residence.
Their father and mother died in the Sunday crash, 48 hours to his birthday.
How many orphans and widows did the crash create?
Their own tears may never dry.
If you would like to comment on Sola Odunfa's column, please do so below.