Malawi not to host summit after row over Sudan leader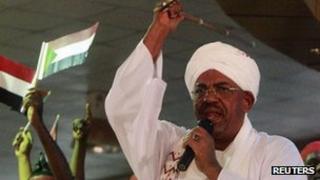 Malawi has said it will not host the African Union summit in July because of disagreements over the attendance of Sudan's President Omar al-Bashir.
Mr Bashir has been indicted for war crimes in Darfur by the International Criminal Court (ICC).
The AU has lobbied for the arrest warrant to be deferred and urged Malawi to allow Mr Bashir to attend.
"Much as we have obligations to the AU, we also have obligations to other institutions," the vice-president said.
Malawi's former leader, Bingu wa Mutharika, who died in office in April, had defied calls to apprehend Mr Bashir.
Since his death, his successor President Joyce Banda has taken steps to appease donors with a series of reforms.
On Thursday, Sudan asked the AU to move the meeting to its headquarters in the Ethiopian capital, Addis Ababa, after Malawi had said Mr Bashir would not be welcome in the southern African nation.
Under the ICC statute, member states - which include Malawi - have a duty to arrest indictees.
"After considering the interests of Malawians, I want to inform Malawians that the cabinet met today and decided it was not interested to accept the conditions by the African Union, therefore Malawi is not hosting the summit," the AFP news agency quotes Malawi's Vice-President Kumbo Kachali as telling journalists.
When Mr Mutharika defied calls to apprehend Mr Bashir when he visited Malawi in October 2011, the ICC referred the country to the UN Security Council.
Mr Bashir was the first head of state to be indicted by the ICC, which accused him of genocide and war crimes in Darfur.
He denies the charges, saying they are politically motivated.
Chad, Kenya and Djibouti have also been referred to the UN Security Council for refusing to arrest Mr Bashir, even though they recognise the ICC.