Al-Shabab: US puts bounty on Somali militants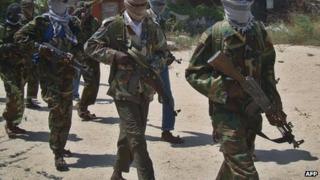 The United States is to offer millions of dollars in rewards for information leading to the capture of leaders of the Somali militant group al-Shabab.
It is the first time the US has offered money for specific members of the group, which announced its allegiance to al-Qaeda earlier this year.
It has put a price of $7m (£4.5m) on al-Shabab's founder and commander, Ahmed Abdi aw-Mohamud Godane.
It comes as African Union forces make key advances against the group.
Al-Shabab still controls much of the country but is under pressure from Ethiopian troops, pro-government militias and the African Union force, which has US and European funding.
African Union and Somali government forces last week captured the town of Afmadow, a strategic militant base in the south of the country.
Allegiance
The group released a joint video with al-Qaeda in February, announcing that the two groups had merged.
Appearing on the video, Ahmed Abdi aw-Mohamud Godane, who is also known as Mukhtar Abu Zubair, said he "pledged obedience" to al-Qaeda head Ayman al-Zawahiri, who has a $25m bounty on his head.
The US added al-Shabab to its list of foreign terrorist organisations in 2008.
In April, it warned that it continues to receive threats against targets within Kenya.
The 2002 twin attacks on Israeli targets near the Kenyan resort of Mombasa were allegedly planned in Somalia by an al-Qaeda cell, while the US believes some of the al-Qaeda operatives who carried out the 1998 attacks on its embassies in Nairobi and Dar es Salaam then fled to Somalia.
Under its Rewards for Justice programme, the US is offering money for six other key members of al-Shabab in a total fund of over $30m.
Among those it is seeking is al-Shabab co-founder Ibrahim Haji Jama, and the Swedish Somali Fuad Mohamed Khalaf, also known as Shongole, who is the group's financier.
Al-Shabab is known to have recruited a number of foreign fighters - many of whom have fought in Iraq and Afghanistan.
Robert Hartung, an assistant director at the US state department's bureau of diplomatic security, said: "Every time we add someone to the Rewards for Justice site, that is a signal that the US government takes the fight against terrorism very seriously."
Uganda, the main contributor to the AU force, has been targeted by al-Shabab in a double suicide bombing in Kampala, which killed 76 people watching the 2010 football World Cup final on television.
The group has also threatened attacks in Kenya after Kenyan troops entered Somalia last October in pursuit of al-Shabab militants they accused various kidnappings and destabilising the border region.
Kenyan troops have now been incorporated into the AU force, making it nearly 18,000 strong.
The Horn of Africa country has had no effective central government since 1991, and has been wracked by fighting ever since.
It is a situation that has allowed piracy and lawlessness to flourish.
Last month, leaders of disparate Somali factions agreed to a timetable that will elect a new president by 20 August, ending the transition period of the UN-backed interim government.