Benghazi blast hits US office in eastern Libya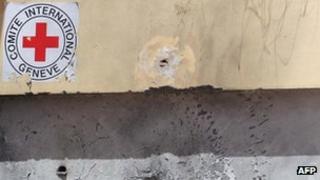 A bomb went off outside the US embassy offices in the eastern Libyan city of Benghazi Tuesday night, causing minor damage to its main gate.
A US embassy official in Tripoli told BBC that no one was injured in the attack, by unknown assailants.
The US official deplored the attack and asked the Libyan government to increase security around US facilities.
Libya has witnessed a spate of attacks on important local and foreign landmarks in the country this year.
Earlier this week, the runway at the international airport in the Libyan capital Tripoli was temporarily seized by an armed militia from the western town of Tarhouna, grounding all flights.
Last month, the office of the International Committee of the Red Cross (ICRC) in Benghazi was hit by a rocket-propelled grenade.
General elections
The latest attack comes days before the first general elections in the country.
Libya is preparing for elections expected to take place on 19 June. Libyans will be voting for 200 members of an assembly that will form a panel to write a new constitution and form a new government.
It is still not clear who is behind these attacks, including the latest in Benghazi.