South Sudan officials 'stole $4bn'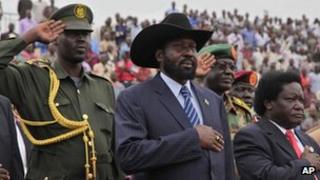 South Sudan's President Salva Kiir has accused officials of stealing at least $4bn (£2.6bn) from state resources.
He has written to 75 current and former senior government employees, asking for the unaccounted money to be returned.
About $60m has been recovered since the letters were sent out last month, the information minister told the BBC.
The new nation is desperately in need of funds after its oil production, which accounts for 98% of revenue, was shut down in an argument with Sudan.
South Sudan seceded from Sudan to form the world's newest nation last July.
'Credibility on the line'
In a letter dated 3 May and reportedly sent sometime in the last 10 days, President Kiir wrote: "People in South Sudan are suffering and yet some government officials simply care about themselves.
"Most of these funds have been taken out of the country and deposited in foreign accounts. Some have purchased properties, often paid in cash."
The president also said "corrupt individuals with close ties to government officials" were involved in stealing the missing billions.
Correspondents say the president's letter is rather an unorthodox method of dealing with corruption but South Sudan's information minister, Barnaba Benjamin, says it is working.
"Since the letters were written about $60m of the money that was inappropriately used in various ministries has already been recovered," Mr Benjamin told the BBC's Network Africa programme.
"It is working and what is important is that the government must really succeed to recover some of this money - so we are heading in the right direction," he said.
The minister also told Reuters news agency that more than $2bn went missing in a well-publicised scandal involving the staple crop sorghum - in which bogus companies were paid by government but never delivered the grain.
Police investigations have been going on since 2009, and the minister and officials in the finance ministry previously arrested, the minister said.
"It has not been easy for the police to have the direct evidence to identify these individuals," Mr Benjamin told the BBC.
"They can only be identified by locating where these funds have been deposited and in whose name," he added.
The country is one of Africa's least developed countries, with few paved roads and poor health and educational outcomes.
President Kiir accused South Sudan's new leaders of betraying their common vision for bettering the country.
He wrote that although many of their comrades had died in the long struggle for independence, "once we got to power we forgot what we fought for and began to enrich ourselves at the expense of our people".
The letter offered an amnesty to anyone returning money, but said "the credibility of our government is on the line".