Nigeria: Lagos protests over university name change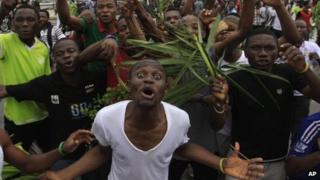 Students in Nigeria's main city of Lagos have been involved in angry protests about the president's decision to change the name of their university.
Hundreds of them blocked a major bridge and other main roads, causing chaos.
The renaming of the University of Lagos to Moshood Abiola University was made without warning on Tuesday.
Abiola, a politician who died in custody during military rule, is seen by many as a hero, but the students say they should have been consulted first.
He won elections in 1993 which were then annulled by the military and he died in prison five years later.
'Pride in name'
President Goodluck Jonathan said he had decided to rename the university - popularly known as Unilag - to mark Nigeria's 13th year since its return to democracy and Abiola's "martyrdom".
After the president's announcement on state television on Tuesday, students immediately began to protest.
The BBC's Fidelis Mbah in Lagos says by Wednesday they were causing mayhem for commuters as they climbed atop buses and blocked traffic on roads into the city centre.
The University of Lagos is a well-respected institution with undergraduates from across Nigeria and West Africa, our reporter says.
The students feel that the change of name will affect a reputation built up over five decades - and they see the move as an attempt by the president to score cheap political points, he says.
"The name is our pride," one of the protesters told the BBC.
The students also point to the fact that although Abiola had major business interests in Lagos, he was in fact from neighbouring Ogun state.
Following the protests, the institution's administration - which says it too was not told about the change of name - has suspended academic activities for two weeks.