BBC's Petroc Trelawny: Zimbabwe 'drops charges'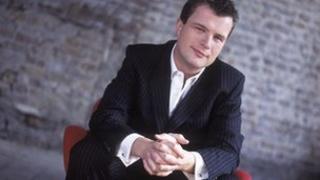 A BBC music presenter detained in Zimbabwe for not having a work permit is free to leave, his lawyer Munyaradzi Nzarayapenga has said.
State prosecutors have dropped all charges against Petroc Trelawny, Mr Nzarayapenga told Reuters news agency.
He told AFP Mr Trelawny was in hospital under police guard being treated for a fractured arm until the formalities of his release were complete.
Mr Trelawny was arrested on Thursday in Bulawayo at a music festival.
He was not in Zimbabwe in his BBC capacity.
No reason was given for the state prosecutors dropping the charges, but Mr Trelawny was "effectively a free man", Mr Nzarayapenga said, Reuters reports
"But he is still in hospital under police guard while awaiting finalisation of a few formalities such as getting his clothes back and his passport from immigration," Mr Nzarayapenga told AFP news agency.
"I feel this was a minor understanding which could have been handled differently," Mr Nzarayapenga added.
Mr Trelawny - who presents Music Matters, Breakfast and Live in Concert on BBC Radio 3 - had fallen and injured his arm while in police custody, according to his lawyer.
He had been acting as a compere at the Bulawayo Music Festival, organised by the Zimbabwe Academy of Music, earlier this month.
Zimbabwe's media laws require journalists to be accredited by a state-appointed commission.