Private patrol boats to tackle Somali pirates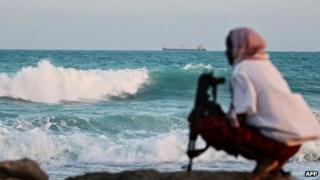 Off the pirate-infested waters of Somalia, a new force is taking shape.
The private company Typhon is preparing to operate alongside the world's navies, offering protection to cargo vessels sailing around the Horn of Africa.
But unlike other private security firms which put guards on board other people's ships, it will offer vessels of its own.
The chief executive of Typhon, Anthony Sharpe, says the plan is to rendezvous with cargo ships which sign up for their protection and form them into a convoy.
The company says it will establish what it is describing as an exclusion zone of one kilometre around the ships.
The company is buying three boats, which are currently being fitted out in Singapore.
Each of its craft will have up to 40 security officers, drawn from former British Royal Marines, as well as a crew of 20.
The ships will be fitted with machine guns and the staff will have rifles.
But Mr Sharpe told the BBC it is not a question of out-gunning the pirates.
"It's not about lethal force matching lethal force," he said.
"It's more like applying a burglar alarm to the problem and the thief will be deterred - so will be looking elsewhere."
Drones and radar
The direction these convoys travel in will be determined by the customers, rather than the timetables of navies, says Mr Sharpe.
Their progress will be monitored by drones and radar, he says, and any unknown vessel approaching the convoy will be intercepted.
Navies from around the world already operate in the area vulnerable to attacks from Somali pirates.
But since more than 20,000 ships pass through these waters - stretching from the coastal waters of India to the shores of Mozambique, there is plenty of room for others players.
Typhon - named after a giant monster from Greek mythology - will be based out of the United Arab Emirates.
Mr Sharpe did not say how much he would charge but says shipping companies would benefit from reduced insurance premiums.
"I have spoken to the underwriters at Lloyds and the expectation is that there will be a 50% to 80% reduction in premiums for customers who use our services."
But what about the attitude towards this initiative from the navies operating off the Somali coast?
Asked to comment, a spokeswoman for the European Union naval operation in the region said she was not opposed to the development.
"Ships guarded by private guards have not been taken by piracy," EU Navfor spokeswoman, Lieutenant Commander Jacqueline Sherriff said.
Combined Maritime Forces, the 26-strong multi-national naval partnership, including the US, South Korea, Saudi Arabia and the UAE as well as a number of European nations, is also broadly supportive.
It suggests that private security initiatives have succeeded in repelling pirates and are "supported by Combined Maritime Forces".
Legal brains
But the naval partnership is cautious too, pointing out that international law is not clear on how much force can be used to ward off a pirate attack.
"The issue of any non-state mandated armed security teams is complex and subject to many legal considerations - it is for this reason that it would be inappropriate for CMF to comment further," the CMF spokesman, Lieutenant Commander, Mark Hankey in a statement,
Typhon accepts that this is a complicated legal issue.
"On our staff we are going to have two very large legal brains, who will operate our rules of engagement," Mr Sharpe said.
"Our rules of engagement will ultimately allow us to resort in lethal force, but there are lots of methods to deter pirates from approaching our exclusion zone."
The company has a number of senior former military figures on its board.
These include Lord Richard Dannatt, former army chief of the general staff in the UK and Admiral Harry Ulrich, former head of US naval forces in Europe.
But perhaps the key figure is Typhon's chairman, Simon Murray - chief executive of Glencore, one of the world's biggest commodity traders.
With this kind of backing finding sufficient clients should not be impossible.