Uganda: LRA rebel Caesar Achellam in row over amnesty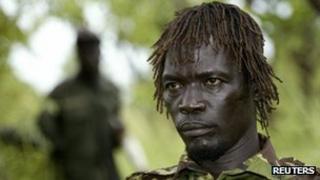 A senior commander in the rebel Lord's Resistance Army (LRA) should be granted amnesty just like other LRA fighters, his lawyer has told the BBC.
But Uganda's public prosecutor has said the amnesty law does not apply to Caesar Acellam because he was one of the top rebel military strategists.
Mr Acellam is in a Ugandan army base in South Sudan, two weeks after being found in the Central African Republic.
The most notorious wanted LRA leader is war crimes suspect Joseph Kony.
Justice for victims
An amnesty law was introduced in 2000 to try to end a war waged by Kony and his LRA fighters for more than two decades.
The BBC's Ignatius Bahizi in Kampala say the law primarily pardons those fighters who surrender and denounce rebellion.
But a row has broken out between the director of public prosecutions, Richard Butera, and the LRA lawyer, Caleb Alaka.
Mr Butera insists that Mr Acellam is not entitled to amnesty because he did not hand himself in - and because of his seniority in the LRA's command and control.
Mr Alaka disputes the account by the Ugandan army, which says it seized Mr Acellam in the Central African Republic, one of several nations where the Ugandan-led LRA operates, following a struggle between Ugandan soldiers and a group of 30 rebels.
The lawyer says Mr Acellam was going to hand himself over.
"But whether he did or he did not, he should be entitled to amnesty because it [the amnesty law] covers both those who were capture and those who surrender," Mr Alaka told the BBC's Focus on Africa programme.
"Yes, we sympathise with the victims, and victims need justice," Mr Alaka said, "but when it comes to individual like Caesar Acellam, there could still be justice for victims.
"He gets amnesty, he settles amongst them, and maybe he looks at what he did wrong and he is haunted by it - that will be justice in the African sense."
Following his arrest on 12 May, Achellam told reporters: "My coming out will have a big impact for the people still in the bush to come out and end this war soon," he said.
Ugandan army spokesman Felix Kulaigye said: "The arrest of Major General Caesar Achellam is big progress because he is a big fish.
"His capture is definitely going to cause an opinion shift within LRA."
Kony's global notoriety has increased in recent months because of the internet video Kony 2012, which has been watched tens of millions of times since it was posted online by the US advocacy group Invisible Children.
He is wanted by the International Criminal Court for rape, mutilation and murder of civilians, as well as forcibly recruiting children to serve as soldiers and sex slaves.
The Ugandan army is being assisted in its hunt for Kony by soldiers from other African nations, as well as US special forces.
The strength of his LRA is estimated at between 200 and 500 fighters.