ICC rejects challenge to Kenyan election violence trial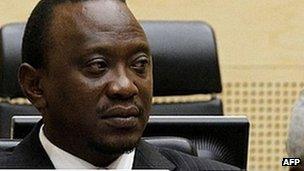 The International Criminal Court has rejected an appeal by four prominent Kenyans accused of orchestrating post-election bloodshed in 2008.
The ruling means they are likely to face trial in the Hague for alleged crimes against humanity.
All four men deny their roles in violence that surrounded a disputed presidential election in which more than 1,200 people died.
They had challenged the ICC's jurisdiction on technical grounds.
The four men were influential supporters of the two main candidates in the election - Mwai Kibaki and Raila Odinga.
The violence began as clashes between supporters of the two rival presidential hopefuls, but it snowballed into a bloody round of score-settling and communal violence.
Fighting continued for months, and 600,000 people were forced from their homes.
Uhuru Muigai Kenyatta is the most high-profile suspect.
He is a son of Kenya's first president, Jomo Kenyatta, and is a deputy prime minister.
He is also a leading ally of President Mwai Kibaki and has said he will stand in next year's elections.
In January Kenya's attorney-general ruled he should be allowed to remain in office pending the outcome of the challenge to the ICC's right to hear the case.
Francis Muthaura is another key Kibaki supporter and is a former ambassador to the United Nations.
The other accused men - William Ruto and Joshua arap Sang - were supporters of Mr Odinga. Mr Ruto is also expected to contest the 2013 poll.
They were among six people who were originally charged by the ICC - two others, Hussein Ali and Henry Kosgey, had the charges against them dropped.
The violence ended after Mr Kibaki and Mr Odinga agreed to share power, with the latter becoming prime minister.
Related Internet Links
The BBC is not responsible for the content of external sites.