Sudan's President Bashir 'believes in need for peace'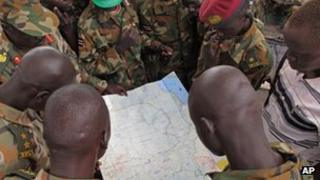 African Union mediator Thabo Mbeki has said Sudan's President Omar al-Bashir is committed to security agreements with the South.
The former South African president has been in Khartoum to attempt to restart negotiations between Sudan and South Sudan.
He told reporters that President Bashir "confirmed that he believes the two nations... are in need of peace".
Mr Mbeki is expected to travel to South Sudan next to speak to leaders in Juba.
Heavy fighting between Sudan and the new nation of South Sudan over territorial disputes brought them to the verge of war last month.
According to a United Nations Security Council resolution, talks aimed at resolving the dispute should have started last week but the two sides have balked at returning to the negotiating table.
South Sudan - which only seceded from its northern neighbour last year - previously said it is prepared to talk without preconditions, while Sudan has said it wants negotiations to focus on demarcating borders.
Sudan will not withdraw its troops from disputed areas until the borders are formally set, but Mr Mbeki said Khartoum has now agreed to one of UN's key demands: creating a 10km buffer zone on the border between the two states.
Sanctions threat
The latest crisis began in April when South Sudanese troops took over the Heglig oilfield, which is one of Sudan's biggest sources of revenue.
South Sudan claims the oilfield falls within its territory, but the exact location of the border still had not been decided when the South became an independent nation last July, taking most of the oil with it.
Under international pressure, South Sudan later withdrew from Heglig.
At a meeting of the Security Council on Thursday, members adopted a resolution demanding the finalisation of a jointly-run administration and police force for the disputed border region of Abyei near Heglig.
The United Nations has said that unless the border question and other issues are resolved within the next three months, it will consider imposing sanctions.
For that, the two countries need to sit round the negotiating table, but the latest round of fighting has derailed talks.
The two countries are also still to agree on what rights their citizens should have in the other - some 500,000 Southerners are now foreigners in Sudan, along with some 80,000 northerners in the South.
A deadline for a group of some 15,000 Southerners to leave Sudan and head to South Sudan, a country some of them have never visited before, expires on Sunday.