Seven die in clashes in Libyan desert town - government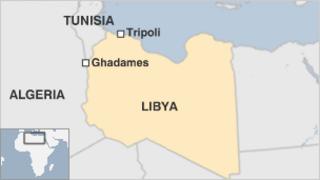 Seven people have been killed and more than 20 injured in clashes in Libya's western desert town of Ghadames, the government says.
Government spokesman Nasser el-Maneaa blamed an "armed group from outside the town" for the violence.
He added that the army had been sent to Ghadames and the situation was now under control.
Unconfirmed reports say the clashes were between town residents and Tuareg tribesmen - nomads who roam the desert.
The fighting erupted over control of a checkpoint on the edge of the town - on a route often used for smuggling, local officials were quoted as saying by Reuters.
Libya's interim government is struggling to control the vast country with numerous tribal groups after former leader Col Muammar Gaddafi was ousted in the uprising last year.
Many Tuaregs supported the late leader during the fighting.