Sudan bombing 'outrages' UN's Navi Pillay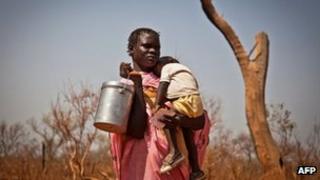 The UN human rights chief has condemned Sudan's bombing of South Sudan, carried out despite a UN resolution demanding an end to hostilities.
Navi Pillay, on a visit to Juba, said she was "outraged and saddened" by the continued aerial bombardments.
Sudan's leader Omar al-Bashir warned on Thursday that no organisation had the right to dictate to his country, especially when it was threatened.
South Sudan seceded last July as part of a deal to end years of civil war.
But disputes, especially over oil, stemming from the secession led to clashes last month and fears of a return to all-out war.
The UN resolution passed last week threatens sanctions if both sides fail to negotiate.
They have both agreed to adhere to an African Union roadmap under which they must restart negotiations and reach an agreement on outstanding disagreements within three months.
But on Wednesday, South Sudan accused its neighbour of several more bombing raids. Khartoum said it had the right to respond to acts of aggression.
'Civilians at risk'
"Twice in the past six months I have publicly condemned the indiscriminate use of aerial bombardment by the Sudanese armed forces inside South Sudan, today I condemn it again," Ms Pillay told journalists at the end of her first visit to South Sudan.
"I am saddened that such attacks take place where civilians are at risk and endangered despite last week's Security Council resolution."
She also called for a human rights monitoring mechanism in the border regions.
Aid agencies have warned of a deteriorating situation along the border - with the number of those fleeing bombings increasing.
There is also a surge in the number of refugees crossing over the border from South Kordofan and Blue Nile states in Sudan.
Conflicts have erupted in these states over the last year where communities traditionally allied to the South found themselves north of the border after Juba's independence.
Mr Bashir warned that if security matters with South Sudan were not first resolved, then there would be no negotiations with Juba over oil, trade or citizenship.
Both sides accuse the other of backing proxy armies - which they deny.
"We will defend ourselves and, as I said to you before, we will chop off any hand that dares to harm Sudan. And if someone dares to raise their eyes to Sudan, we will blind them," President Bashir said.
He made his comments to a group of oil and mining workers marking the "liberation" of the Heglig oil region, which South Sudan occupied for 10 days last month.
The president said Sudan did not seek aggression but would respond in kind and would not be intimidated by threats from the UN or AU.
"We will implement what we deem it right to implement and will reject what we do not want to implement," he said.
South Sudan, which took most of the former united Sudan's oil reserves when it seceded, relies on pipelines to seaports in Sudan to export it - and stopped pumping oil in January in a row over transit fees.
Mr Bashir said that, with the closure of the border between the neighbours, it was South Sudan's economy that was suffering most.
"We know that we control their economy - we have their oil, their sugar, their bread, we have everything they need and therefore they cannot fight us."
Last year Southern Sudanese voted overwhelmingly in favour of independence from Sudan in a referendum promised as part of a peace deal in 2005 which put an end to the 22-year civil war in which some 1.5 million people died.