Kenya trial Briton Jermaine Grant 'linked to 7/7 bomber'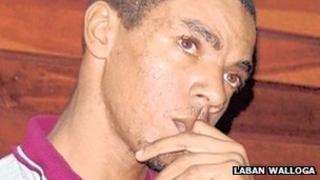 A British man on trial in Kenya for an alleged bomb plot was linked to the widow of one of the 7/7 London bombers, the prosecution has said.
It says Jermaine Grant, of east London, was working with fugitive Samantha Lewthwaite, the widow of London Underground bomber Jermaine Lindsay.
The charges come as Grant's trial opened in the coastal city of Mombasa after lengthy delays.
The 29-year-old denies allegations that he possessed explosive materials.
Grant - who was arrested last December - has already been jailed for being in Kenya illegally.
On Thursday, Kenyan government prosecutor Jacob Ondari alleged that Grant and Ms Lewthwaite had worked together on the alleged plot.
"She is believed to be the financier of the whole thing," Mr Ondari said.
Ms Lewthwaite, 28, is wanted by the Kenyan authorities and is believed to be travelling on a forged passport. Her husband blew himself up on a London Underground train on 7 July 2005, killing 26 people.
The prosecution will allege that Muslim convert Grant was, together with three Kenyan co-defendants, plotting to detonate their explosives with the aim of killing civilians.
One of the co-defendants was identified as Grant's wife, Warda Breik Islam, according to AFP news agency.
Bomb-making ingredients
Although Grant made his first court appearance on Wednesday, the case failed to start because his criminal file was reportedly incomplete. The first prosecution witness finally appeared, after more delays on Thursday morning.
Police say that when they raided the house Grant was staying in last year, they found ingredients needed to make a bomb - hydrogen peroxide and ammonium nitrate, as well as batteries and electrical switches.
The trial is now not expected to resume until 15 August.
A recent report by security think-tank the Royal United Services Institute (Rusi) claimed Britons accounted for about 50 of the estimated 200 foreigners fighting with the Somali militant group al-Shabab, which has links to al-Qaeda.
A high-profile conference on Somalia organised by the British government earlier this year was prompted, in part, by the fear of what these battle-hardened and radicalised young men might do if they return to the UK, the BBC's East Africa correspondent Gabriel Gatehouse reports.
Grant, from Newham, east London, was first detained in Kenya near the Somali border in 2008, but escaped police custody.
He is said to have been sprung from a police station by a group of militants belonging to al-Shabab.
Last October, Kenya sent troops into Somalia to pursue the group, blaming it for a recent wave of abductions which threatened its tourism industry.
Al-Shabab denied any involvement and said the Kenyan incursion was an act of war and it would take revenge.
The group is now under pressure on a number of military fronts in the south of Somalia - but still mounts frequent attacks and controls much of the country.
This year the African Union force in Somalia, which supports the UN-backed interim government, was boosted from 12,000 troops to nearly 18,000 to incorporate the Kenyan troops.